PESHAWAR -- The Namak Mandi food bazaar in Peshawar attracts not only local customers but also visitors from all over the country and abroad for its unique taste.
Its most popular dish is called tikka karahi, a dish made from lamb or goat.
With the return of peace and the defeat of militants, large numbers of patrons can now visit such restaurants, staying until late at night.
"The taste is unique; it is totally different from the spicy food elsewhere in the country," said Waqar Ahmad, a resident of Mardan, at a Peshawar restaurant on September 1.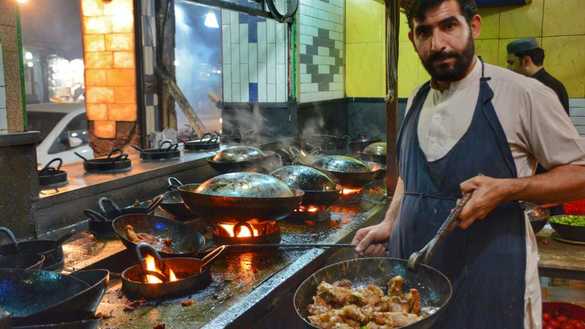 Nasir Khan, owner of the Charsi Tikka restaurant in Peshawar, is very happy with the influx of visitors these days.
"It's a very profitable business," he said. "Every day we cook the meat of 40 to 45 lambs," he said. "We use only salt and lamb fat to cook the dish."
Hundreds of customers every night eat at the restaurant, Khan added.