PESHAWAR -- The Khyber Pakhtunkhwa Food Safety and Halal Food Authority (KPFSHFA) is accelerating operations across the province to ensure the availability of hygienic, healthy food for consumers.
KPFSHFA Director General Riaz Khan Mahsud announced the start of the authority's operations on March 5, and since then, it has been conducting daily raids on factories, restaurants, butchers, dairy farms, supermarkets and other places that prepare or sell food.
During the first two weeks of May alone, the authority shuttered a spice processing plant, a cold drink factory and a snack factory. It also disposed of adulterated milk and 2,000kg of other expired or non-compliant goods.
"The authority has hired a team of qualified and experienced food scientists and set up laboratories to test the standards of various kinds of foods available in the market," Mahsud told Pakistan Forward.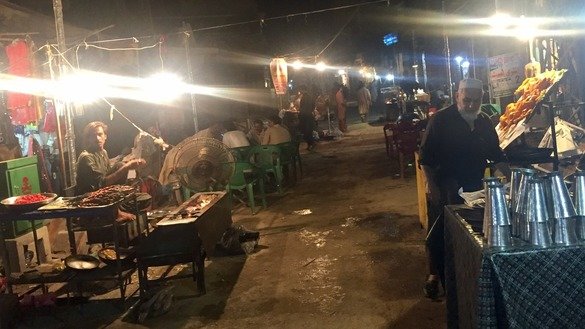 The KPFSHFA headquarters is in Peshawar and seven offices exist at divisional level, he said, adding that officers and junior staff have been deployed to all divisions.
Licences and checks for food outlets
Until now, thousands of KP food outlets have been functioning without any licence and hardly any enforcement by the concerned departments, said KPFSHFA spokesman Atta Ullah.
Business owners who want to obtain licences may apply through android phone and web applications or in person at KPFSHFA offices.
"Field teams will conduct medical and other tests of the cooks, managers, waiters and other staff on the spot to ensure a healthy environment at food outlets," Atta Ullah said, adding that KPFSHFA has set up three laboratories to process samples.
As a result of the searches, KPFSHFA May 14 sealed a factory preparing Rooh Afza in Hayatabad, Peshawar, after substandard raw materials and rotten fruits were recovered from the factory, he said.
The same day, the authority banned soft drinks, energy drinks and loose chips inside schools, as well as the slaughter of underage animals, the last in order to preserve future generations of livestock.
Canteens in educational institutions have specific orders to provide only healthy and fresh food to students, Mahsud said.
Such crackdowns are continuing across the province.
Training on food safety
Many of the province's restaurants, bakeries, vendors and other food outlets lack the facilities to ensure food preparation in a healthy environment, Atta Ullah said.
To remedy the situation, KPFSHFA has trained a number of owners and managers of various hotels, restaurants and other food outlets to make sure their food complies with international hygiene and health standards.
"This authority has been much needed for many years since food outlets have increased by many times -- but there are no proper checks to see if they provide hygienic, fresh and healthy food," Ibrahim Khan, a 34-year-old trader from Peshawar who dines out often, told Pakistan Forward.
Many vendors have set up their food stalls in places surrounded by flies, mosquitoes and drainage water, he said.
"These food outlets must be brought to obey laws ... to ensure clean environments and hygienic food for consumers," he said.
Restaurant owners have also lauded the new authority, saying it will discourage the spread of businesses that flout food safety and hygiene measures.
"Customers visit you even if you charge more when they notice that the food, kitchen and all parts of the restaurant are clean," Asad Ali, a tikka shop owner on Ring Road in Peshawar, told Pakistan Forward.
Restaurants, fast food outlets and vendors who endanger customers by providing unhygienic and substandard food should be penalised, he said.
"It's a great step in the right direction that an authority has been formed to keep a check on the quality of food consumed daily by millions across KP," said Ilyas Rashid, manager of a restaurant in Peshawar.