PESHAWAR -- Khyber Pakhtunkhwa (KP) for the first time has extended Rescue 1122 operations to the former Federally Administered Tribal Areas (FATA).
A Rescue 1122 station began operating on August 28 in Khyber District. The service provides emergency services, responding to incidents including bombings, suicide attacks and medical emergencies.
"Rescue 1122 will provide rescue and relief services to the residents of former FATA like the rest of the province now," said Kamran Khan Bangash, special assistant to the KP chief minister and member of the KP Assembly.
"Two stations will be set up in every agency and one each in the former Frontier Regions," said Bangash, adding that the KP government has approved 20 stations in the newly merged districts.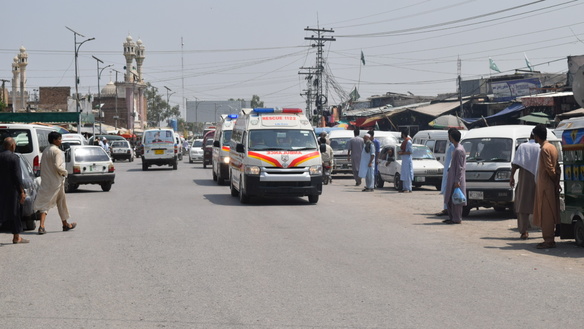 Former FATA included Mohmand, Bajaur, Khyber, Kurram, Orakzai and North and South Waziristan districts and six Frontier Regions that have been merged with adjacent districts.
Completion of new stations soon
The procurement of equipment, including ambulances and fire trucks, will end in a few months, he said.
"Most of the stations... will be completed before the end of the current fiscal year," Bangash said, referring to June 2020.
"Trained and experienced staff have been deployed at the station in Khyber district to provide instant relief to those who need any help," said Bilal Ahmad Faizi, a spokesman for Rescue 1122.
The total cost for the project is estimated to be Rs. 3.5 billion ($22 million), he said, adding that the KP government will recruit 1,500 staff for the service in erstwhile FATA.
A busy service
"Rescue 1122 has been doing an excellent job, and it responded to 51,012 emergencies of different natures from January 1 until August 31 this year," said Abid Majeed, secretary of the KP Relief and Rehabilitation Department, which oversees Rescue 1122.
Those emergencies included 45 bombings, 244 drownings, 764 shootings, 81 building collapses, 1,834 fires, 35,838 medical emergencies and 10,612 road accidents in 10 districts of KP, he said.
Khyber District residents have welcomed the extension of Rescue 1122 services to the tribal districts.
"The service was direly needed in Khyber, and it needs to be extended to all the former tribal areas so residents can receive instant relief," said Anees Afridi, a native of Jamrud living in Hayatabad, Peshawar.
The department has offered excellent service during any medical emergency or any other incident for the past several years, he said, adding that the ambulances arrive within minutes whenever someone calls for help.
"The general public used to shift victims of any emergency to hospital in cars and cabs, but it should understand that the trained staff at the equipped ambulances can take better care of their loved ones," said Afridi.