PESHAWAR -- Khyber Pakhtunkhwa (KP) authorities are establishing the province's first regional training academy for the Rescue 1122 service to better prepare staff for emergency responses.
The academy will be set up on a 23-acre campus in Kohat District at a cost of Rs. 140 million ($897,000), officials say.
Officials have not yet determined a date for ground-breaking but expect construction to take two years.
"The decision to establish the training academy was taken in view of the expansion of the Rescue 1122 service to different districts of the province and to the newly merged tribal districts," said Dr. Khatir Ahmad, director general of Rescue 1122 in KP.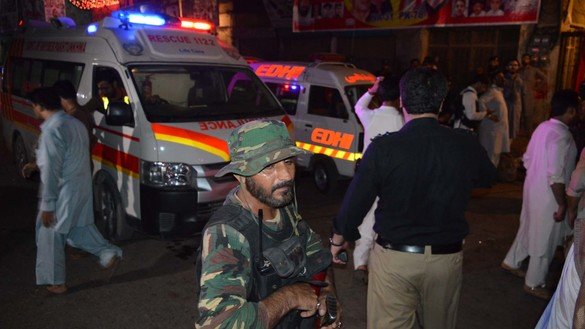 The new academy in KP will offer training in life-saving and disaster-management practices for workers in departments including police, traffic police and civil defence.
All Rescue 1122 staff members will have to undergo six months of training at the new facility, said Khatir.
Rescue 1122 was launched in Peshawar city in 2010, when terrorism was at its peak in the region and bombings were taking place almost daily, Khatir said. Those incidents spurred the demand for a proper emergency rescue and life-saving treatment programme for seriously injured victims.
Expansion of Rescue 1122 in KP
Rescue 1122 has been extended to 10 districts in KP, said Khatir.
Since its inception through August 2019, Rescue 1122 has saved 284,220 lives by responding to 277,564 emergencies, he added. Those included 607 bombings, 63,916 accidents and 9,743 fire incidents.
The service is recruiting 3,700 new staff members by December to extend emergency services to the remaining districts of the province, according to Khatir.
"Rescue 1122 services in KP is up to the mark and matches international standards of responding to emergencies in seven minutes," said Bilal Ahmad Faizi, a spokesman for Rescue 1122.
The emergency service receives more than 100 emergency calls daily just in Peshawar, Bilal said.
The ambulances of Rescue 1122 have all the equipment necessary for providing emergency service to all kind of patients, and staff are trained paramedics, he added.
'Saves many lives'
"The response to emergency calls by Rescue 1122 is very commendable and helps patients reach hospitals in time, which saves many lives," said Amin Ahmad, an electrician and resident of Sheikh Muhammad village on the outskirts of Peshawar.
Before Rescue 1122, residents of villages had to pay large sums to private ambulance services if they needed to rush to the hospital, he said.
Ahmad recalled a fire incident in his village and said the response to the emergency call was very quick.
A well-equipped emergency response operation is critical given the violent campaigns of terrorists in the region in the past, said Atif Haleem, the newly elected president of Small Traders of Peshawar City, a traders' organisation in Peshawar.
"A proper rescue service is necessary, keeping in view the law and order history of our province, which remained in the grip of terrorism-related violence during the past one and a half decades," he said.