PESHAWAR -- Work is under way in Khyber Pakhtunkhwa (KP) to establish more Rescue 1122 stations in the tribal districts, say officials.
Thousands of residents of the tribal districts were killed or wounded in suicide attacks, bombings, targeted killings and other attacks over the last 15 years. Until now, the tribal belt had no specialised services to transport the wounded to hospitals.
"Twenty stations will be set up in the newly merged districts to provide instant rescue services to the residents of erstwhile FATA [Federally Administered Tribal Areas] in case of any terrorist attack, bombing, fire or any medical emergency," said Abid Majeed, secretary of the KP Relief and Rehabilitation Department, on January 10.
"At least 10 of these stations will start working by the end of June this year," he said.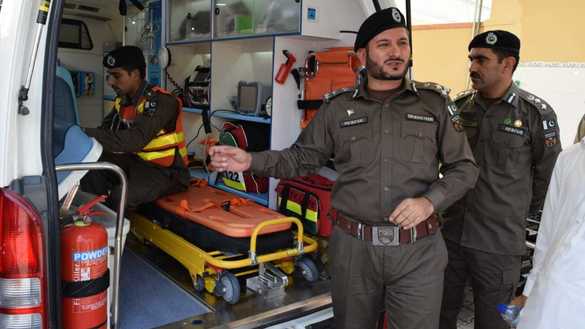 The seven former tribal agencies will get two Rescue 1122 stations each, while the six former frontier regions will each get one, according to Majeed.
"Rs. 3.69 billion ($24 million) has been allocated to set up offices, buy machinery and vehicles and hire staff for the newly merged districts," he said.
2 stations already working
One station in Khar, Bajaur District, and another in Jamrud, Khyber District, have already started functioning, said Majeed.
KP Chief Minister Mahmood Khan on January 9 inaugurated construction work on the Rescue 1122 building in the Bara subdivision of Khyber District.
The estimated cost of that project is Rs. 45 million ($290,000), and the building will become fully functional in 18 months, according to officials.
"Rescue services already started in Jamrud, Khyber, in August, while the services were extended to Bajaur tribal district in December," said Bilal Ahmad Faizi, a spokesman for Rescue 1122.
"We have started services to the former Frontier Region of Peshawar, Kohat and other Frontier Regions that are now part of the adjacent districts," said Faizi.
In addition, some settled districts in the province, including Swabi, Hangu, Karak and Malakand districts, have seen new Rescue 1122 stations over the last couple of months.
Equipment promised
"Every station in the tribal district will have two ambulances, two fire vehicles, a disaster management vehicle and other necessary equipment," said Faizi, adding that authorities will hire 1,750 officials and specialists for the tribal districts in the coming days.
The rescue stations in the newly merged districts are being set up with the help of the local administration, said Dr. Khatir Ahmad, director general of Rescue 1122 in KP.
Construction work on the offices and stations has kicked off, while authorities are hiring staff for all these districts through a specialised testing service to ensure merit, he said.
"Five people injured in a road accident on January 12 were shifted by Rescue 1122 ambulances to hospitals in Peshawar within no time," said Abdul Qadeem Afridi, a resident of Jamrud, where one of the new stations began operation.
Residents of the area have welcomed Rescue 1122 as it was needed the most in these areas, especially those far from hospitals and cities, he said.
"When terrorism was at its peak and people were killed and injured, civilians [and officials] used to transport the wounded to hospitals in Peshawar in pick-up vans, their own cars or the vehicles of security forces and the district administration," said Afridi.
The tribal areas had some private ambulances but had no organised system of emergency rescue services, he said.
"The government should complete the process of hiring and procuring machinery and vehicles to start full-fledged Rescue 1122 services in all the newly merged districts within no time," said Afridi.