PESHAWAR -- Security analysts in Pakistan are blaming the Afghan Taliban for sabotaging talks with the United States by carrying out attacks despite agreeing in principle to reduce violence.
US President Donald Trump Saturday (September 7) announced he had called off a secret summit in Camp David, the presidential retreat near Washington, that would have included separate talks with the Afghan government and the Taliban, AFP reported.
"Unbeknownst to almost everyone, the major Taliban leaders and, separately, the President of Afghanistan, were going to secretly meet with me at Camp David on Sunday," Trump said in a tweet.
"Unfortunately, in order to build false leverage, they admitted to an attack in Kabul that killed one of our great great soldiers, and 11 other people," said Trump, referring to a bombing on Thursday (September 5) in Kabul that killed a US soldier and another service member from Romania.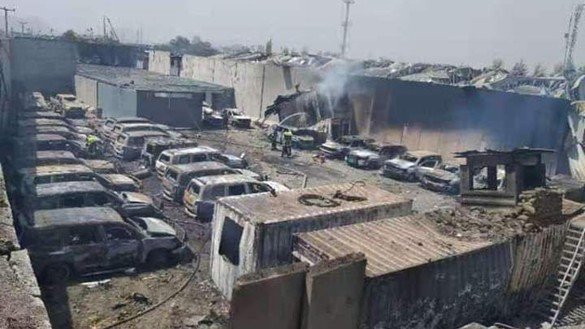 The bombing was the latest major attack claimed by the Taliban even as they negotiated with US Special Representative for Afghanistan Reconciliation Zalmay Khalilzad on the withdrawal of US troops.
The Taliban had agreed in principle to holding direct talks with Afghan leaders, reducing violence and breaking ties with al-Qaeda, among other items, US Secretary of State Mike Pompeo said on CNN Sunday (September 8).
"If we can't get those conditions met ... we're not going to enter into any deal," he said.
"When the Taliban tried to gain a negotiating advantage by conducting terror attacks inside the country, President Trump made the right decision" to walk away, he said. "It made no sense for the Taliban to be rewarded for that kind of bad behaviour."
Dashing hopes for peace
"US President Donald Trump's announcement September 7 calling off the meeting with senior Taliban leaders at Camp David shouldn't surprise anyone because the militants wanted to rule by force," said Peshawar-based security analyst Brig. (ret.) Mehmood Shah.
The Afghan Taliban cannot be trusted because they have habitually broken peace agreements in the past, said Shah, who helped broker the first-ever peace deal (the Shakai agreement) with the Pakistani Taliban in April 2004 as secretary for security of the erstwhile Federally Administered Tribal Areas (FATA) in South Waziristan.
The Shakai agreement fell apart two months later because the Pakistani Taliban refused to give up violence.
"In the past too, militants have broken peace deals as they preferred violence over peace. They draw strength from violence," Shah said, speaking from experience.
Expecting an end to the decades-long war from Taliban militants is wrong as they have been trained how to use guns and bombs and as peace has no place in their strategy, he said.
"The Taliban dashed hopes of peace as they continued talks with the United States while carrying out bombings in Afghanistan simultaneously, which prompted President Trump to walk away from talks," said Islamabad-based senior security analyst Lt. Gen. (ret.) Talat Masood.
"It is extremely disappointing that the long-awaited outcome of peace talks has been shattered. We had nursed hopes that the Taliban would end terrorism and opt for peace, but they didn't," he said.
"The Taliban are notorious for killing students, women and children to establish their unlawful writ," said Khadim Hussain, a Peshawar-based senior security and political analyst. "They have adopted such strategies in the former FATA and in Malakand as well as in Afghanistan."
"The Muslim ummah should appeal to the Taliban to end violence and resume talks," Hussain said.
The Taliban have brought a bad name to Muslims throughout the world by repeatedly breaking their promises, said Maulana Jalal Shah, a prayer leader in Peshawar.
"As Muslims, you have to abide by the agreements you make with opponents because honouring promises is a basic element of Islam," he said, speaking to the Taliban.
However, the militants will continue to kill their own people, against the teachings of Islam, he said.
Religious scholars belonging to all schools of thought have denounced and issued edicts against suicide attacks, but the Taliban continue the same killing and wounding of civilians, said Shah the prayer leader.