WASHINGTON, DC -- US President Donald Trump on Monday (July 22) hailed Pakistan for its help in advancing peace talks in Afghanistan.
Khan arrived in Washington Saturday (July 20) for a three-day official visit.
"We've made a lot of progress over the last couple of weeks, and Pakistan has helped us with that progress," Trump said, speaking from the Oval Office alongside Prime Minister Imran Khan.
"A lot of things are happening for the United States, and I think a lot of great things are going to be happening for Pakistan under your leadership," he added, turning to face Khan.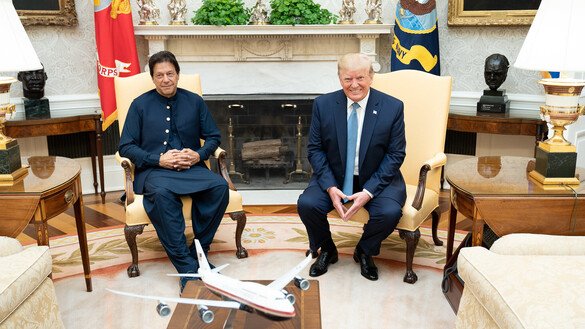 Khan, for his part, said he "always believed there was no military solution" to the conflict between the Taliban and the Afghan government.
"I have to compliment President Trump, because he has now forced people to end the war," he said.
"I want to thank President Trump for his warm & gracious hospitality, his understanding of Pakistan's point of view & his wonderful way of putting our entire delegation at ease," Khan later tweeted. "I want to assure President Trump, Pakistan will do everything within its power to facilitate the Afghan peace process. The world owes it to the long-suffering Afghan people to bring about peace after 4 decades of conflict."
Boost for Khan and Pakistan
Khan's visit amounted to "a reward for good behaviour for following through on the Taliban talks", said Shamila Chaudhary, a senior fellow at the New America think tank and a former White House official.
"It will boost Imran Khan's standing, both at home and internationally," she told AFP.
Trump hopes to "revive all aspects of the bilateral relationship" with Pakistan, including new trade deals and "strong military-to-military ties", according to a readout of the meeting by the White House.