WASHINGTON, DC -- Prime Minister Imran Khan on Sunday (July 21) spoke to members of the Pakistani-American community in Washington, DC.
Khan arrived in Washington Saturday (July 20) for a three-day official visit.
Speaking to a gathering in the Capital One arena, Khan touched upon all of Pakistan's core issues, including corruption, education, economy and democracy.
"Because there is no merit in Pakistan, because there is no system that lets an average person compete on a level playing ground, our people have been left behind," Khan said, according to the Twitter account of his party, Pakistan Tehreek-e-Insaf (PTI).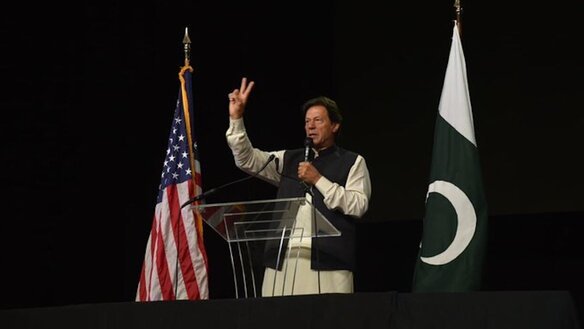 "Just by giving them a system of merit, we will give a chance for new leadership to rise," he said. "This is the time that Pakistan will change. We have to bring the system of meritocracy to Pakistan."
Khan is scheduled to meet with US President Donald Trump Monday (July 22) to discuss the peace process in Afghanistan, among other issues.
"I kept reiterating that there is no military solution in Afghanistan. They labelled me 'Taliban Khan'. But today the whole world validates my stance that there is no military solution," Khan told the gathering.