ISLAMABAD -- Afghan President Ashraf Ghani began an official two-day visit to Pakistan on Thursday (June 27) with hopes that discussions will help reach a political settlement to the conflict with the Taliban.
Ghani arrived in Islamabad with a high-level delegation of ministers, advisers, senior officials and businesspeople, including National Security Advisor Hamdullah Mohib, National Directorate of Security chief Masoom Stanekzai and acting Interior Minister Masood Andarabi.
Ghani conferred with Prime Minister Imran Khan and Foreign Minister Shah Mahmood Qureshi separately and discussed co-operation in various sectors and regional security.
He is also expected to confer with President Arif Alvi.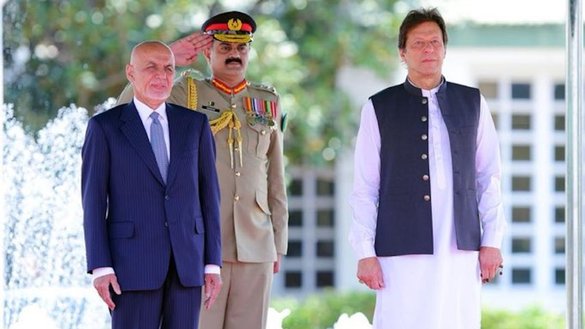 The wide-ranging talks between the two sides will focus on strengthening co-operation in diverse areas, including political, trade, economic, security, peace and reconciliation, education and people-to-people exchanges, the Foreign Office said in a press statement on Wednesday (June 26).
Ghani also plans to participate in a business forum in Lahore that will be attended by business leaders from both countries.
An opportunity to improve ties
Ghani's visit to Pakistan is a significant development in Pakistani-Afghan ties, observers say.
His journey comes after a number of Afghan politicians, mostly from the opposition and including several presidential candidates, attended a conference in Murree on Sunday (June 23).
Ghani's visit shows that Pakistan has intensified its efforts to support a political settlement with the Taliban and to end decades of war in Afghanistan, said Hassan Khan, an Islamabad-based analyst of politics and of Pak-Afghan affairs.
The two countries have much to gain from improving ties and overcoming mistrust, he said.
"During the talk between the two leaders, not only peace but relations, including trade, between the two countries were discussed," said Hassan.
Pakistan engaged key leaders of Afghanistan's opposition, including those belonging to various ethnicities, by inviting them to the Murree conference, he said.
That means Ghani will not "receive any criticism back in Afghanistan for his Pakistan visit because most of Afghanistan's political leaders who are critical of Pakistan's role in Afghanistan's affairs attended the Murree conference themselves just few days before", Hassan said.
A shot at peace
Prime Minister Khan invited Ghani to come to Pakistan during their meeting at the 14th Islamic Summit in Makkah, Saudi Arabia, on June 1. The visit is Ghani's second since taking office in late September 2014 and his first after Khan became prime minister last year.
Khan, after winning the country's general polls, vowed to foster ties with Afghanistan with an emphasis on open borders and free trade.
The visit comes as the United States is engaged in talks with the Taliban and has ramped up efforts to reach a political solution to decades of war in Afghanistan.
To support the the peace process, Mohib in late May visited Islamabad to discuss a wide range of issues.
In January, US Special Representative for Afghanistan Reconciliation Zalmay Khalilzad and Mohammad Umer Daudzai, Ghani's special envoy for peace and regional consensus, also visited Pakistan to support the peace process.