ISLAMABAD -- Every evening in Islamabad a crowd arrives at Sanaullah's street stall to taste his "tandoori chai" -- milk tea served in terracotta mugs, still hot from his traditional oven.
A worker places the old-fashioned cups inside the tandoor, where they are baked at high temperatures.
The worker then pours the tea, prepared separately, into the cups, where it starts to boil on hitting the hot clay.
Classic milk tea -- thick, strong, and generously sweet -- dominates all strata of society, yet the particular alchemy of tandoori chai seduces patrons intrigued by its traditional roots and distinct earthy taste.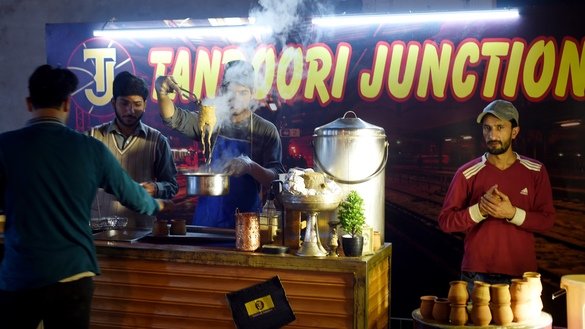 Civilians have felt freer to eat and drink in public after Pakistan's progress in routing terrorists in the past five years.
A smoky flavour and nostalgic atmosphere
"The process of making it is really very interesting, which makes people like it," said Sanaullah, the jovial owner of a trendy shop located in an upmarket area of the capital. He adds that the tea's smoky flavour attracts many.
Muhammad Ishaq Khawar is a frequent customer.
"There is a different kind of atmosphere, especially the way in which we are served tea. It was a very old system that goes back to the old days when the terracotta pots were used," he said.
It may seem like a niche product, but the drink has become so popular that the Tandoori Chai Company cafes, which recently launched in Lahore, have expanded to a second branch.
"Not only in Pakistan, but in the entire subcontinent, it has been mixed in our blood," said Mohammad Asim Khan, a customer at a small eatery in Islamabad.
"Your physical fatigue will go away if you take tea, and you get fresh," he said.