PESHAWAR -- Tourists celebrating Eid this year flocked to Khyber Pakhtunkhwa (KP), especially in Malakand Division, as improved security and the restoration of peace in the region spurred a return of visitors.
Malakand was once a stronghold for militants, especially in Swat District. Since the military cleared the area of terrorists in 2009, Swat and other nearby districts have seen a resurgence as popular tourist spots in the summer.
In a sign of the return of peace, in October 2018, the military formally handed over control of Swat and other areas to civilian administrators.
Tourists are enjoying areas that were once closed in Malakand after militants -- led by Mullah Fazlullah -- bombed hotels, chairlift systems, schools, colleges, hospitals and other facilities in the region.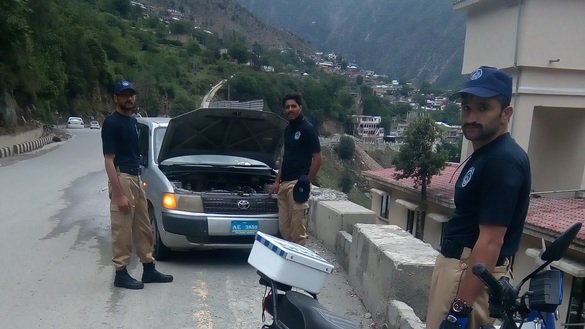 "The weather is excellent and the arrangements made for security and to facilitate tourists, especially families, is excellent," said Zahid Hussain, who was visiting Kalam along with three other friends.
He added that thousands of women are also enjoying Kalam and other areas of Swat, where the Taliban had once barred women from coming out of homes.
"Like everyone, we were scared to visit Swat in past years, but today everything is back to normal and tens of thousands of families are enjoying Kalam and other parts of Swat without any fear due to the efforts by the government, police and army," said Ahmad Shah, a 40-year-old tourist from Peshawar.
Facilitating tourists
Security officials say that in addition to the throngs of tourists that visited Swat during Eid, hundreds of thousands of others travelled to Lower Dir, Upper Dir, Chitral and other valleys of Malakand as well as Naran, Kaghan, Nathiagli, Shogran and other areas in Hazara Division.
Tourism in Hazara and Malakand divisions has been bolstered after motorways were constructed and opened to both destinations. A motorway now connects Abbottabad, the division headquarters of Hazara, with Rawalpindi and Hassan Abdal via Haripur.
Another motorway still under construction that connects Swabi to Swat was opened for light vehicles on Eid, helping ease traffic jams for tourists traveling to Malakand.
From June 4 to June 9, Swat received about 500,000 visitors arriving in 145,000 vehicles, according to Swat District Police Officer Ashfaq Anwar.
"The restoration of peace is the main reason for this boom in tourism in Swat," Anwar said. He added that 1,500 dedicated police officers and 500 traffic wardens had been deployed to facilitate tourists.
The dedicated Tourist Police Force is charged with taking care of the security of tourists and also ensuring the smooth flow of traffic despite the large number of vehicles entering Malakand.
Ready to respond
Bilal Ahmad, a spokesman for emergency service Rescue 1122, said that teams from this organisation along with ambulances have been deployed in Kalam, Madyan and Bahrain in Swat District, as well as in Nathiagali, Naran and Kaghan in Hazara Division.
"Hundreds of thousands of tourists have flocked there with the start of summer," he said in an interview.
Ahmad added that the teams of rescuers, medical technicians and ambulances will remain in crowded spots to respond immediately in case of any emergency.
The Swat Health Department and other agencies also have deployed teams to facilitate tourists coming to Malakand and Hazara divisions.
"Over 1.4 million tourists have arrived or crossed Abbottabad from June 4 through June 9," said Wajid Raju, a spokesman for the Abbottabad police.
Police officers "welcomed tourists by offering them water bottles, snacks and other items," he added.