PESHAWAR -- Tourism is booming in the scenic hills of Hazara and Malakand divisions, Khyber Pakhtunkhwa (KP), a sure sign of improved law and order, officials say.
During the last week of June, over the Eid ul Fitr holiday, more than 3 million tourists visited Galyat, Kaghan, Naran, Kumrat, Swat, Chitral and other tourist areas, KP Police announced June 30.
Temperatures in these towns, dotted with lakes and rivers and surrounded by picturesque mountains and green valleys, remain comfortable as the rest of the country broils under temperatures reaching 45 degrees Celsius.
A dedicated police force
To ensure security and facilitate tourists, police deployed a special Tourist Police force in Abbottabad and Mansehra districts of Hazara Division and in Swat and Upper Dir districts of Malakand Division.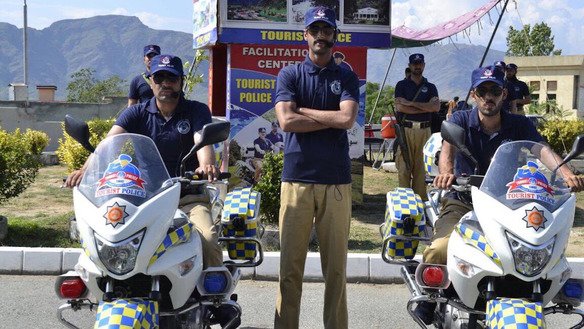 "About one million tourists have arrived in Swat since Eid ul Fitr, and tens of thousands more are coming to stay in Kalam, Bahrain, Madyan and Malam Jabba after escaping hot summer temperatures all over the country," Swat District Police Officer Ijaz Ahmad told Pakistan Forward.
Tourist Police are on hand to assist the large number of guests coming to Swat, he said.
"Apart from engaging hundreds of policemen for security and traffic management, we have dedicated a 50-man squad with 25 motorbikes for welcoming and facilitating tourists," he said.
Record number of tourists
After living as internally displaced persons in other parts of Pakistan for many years, residents of the Swat Valley are rejoicing in the return of security and economic activity.
"We are having a record number of tourists in Swat this year after peace has been fully restored," Ashraf Ud Din, a resident of Kalam, told Pakistan Forward.
All the rooms in local hotels were booked during the first week after Eid and many families had to spend nights in rented tents, he said.
"Thousands of people associated with the tourism industry are happy to see such large numbers of tourists after the restoration of peace," said Din.
"All the hotels are still booked, and there are long queues of vehicles entering Kalam via the only road connecting it from Mingora," said Safeer Khan, a resident of Peshawar who spent three nights in Kalam beginning June 28.
Because of the tourist influx, it took 14 hours to reach Kalam from Mingora, a drive that normally takes 5 hours, he said.
Apart from other arrangements, the KP Tourism Department has constructed camping pods in Thandyani, Shogran and other scenic areas that lack hotels.
A warm welcome
"Police officers and their subordinates welcomed families and children by gifting them juices, water bottles, chocolates, candies and biscuits on arrival in Abbottabad and Mansehra," Hazara Regional Police Officer Mohammad Saeed Wazir told Pakistan Forward.
Security has been upgraded in all tourist areas, he said.
"The number of tourists we received in Hazara this year is highly encouraging and will certainly boost the tourism in Pakistan," said Wazir.
"We estimated that over 2 million tourists visited Kaghan, Naran, Shogran, Galyat and other places in Hazara since June 26," said Haroon Shah, an administrative official in Hazara.
The police, tourism department, district administration and others concerned have made excellent arrangements to facilitate tourists, he said.
"Tourists continue visiting Hazara through August, so we are expecting a good year for local tourism," said Shah.
In years past, many tourists were hesitant to visit Swat and parts of Hazara because of insecurity. Now that has changed.
"There were thousands of families coming from different cities of Sindh, Punjab, Balochistan and even abroad after improved law and order in the tourists' heaven, KP," said Maria Khan, a Peshawar resident who vacationed in Kalam for three days.
Locals offered visitors water and other drinks on the roadside, showing the traditional Pashtun hospitality, she said.
"The families coming were so happy as no untoward incident has been reported from anywhere [in the region] for a long time," said Khan, adding that the improved law and order will attract thousands of more families in coming years.
Summer festivals, further improvements
The government has arranged a number of festivals to attract tourism. A festival took place in the Kumrat Valley, Upper Dir, during the first week of July, while the Shandur Festival is scheduled for the last week of July in Chitral.
Other family-friendly summer festivals are scheduled for Kalam and Malam Jabba. Those usually take place in August.
As a next step, Khan said, the KP and federal governments should focus on improving roads and other facilities.
"The roads in Hazara are better, but the roads leading to Kalam, Malam Jabba, Kumrat and Chitral need to be improved," she said.
A motorway from Hassan Abdal to Abbottabad is under construction and, when complete, will provide a superior connection between Hazara and the rest of Pakistan, according to officials.
Another motorway is under construction from Swabi to Swat. When complete, it will shorten the drive between Malakand Division and Peshawar or Islamabad.