PESHAWAR -- The Khyber Pakhtunkhwa Information Technology Board (KPITB) plans to expand its Durshal project, a chain of incubators aimed at developing digital technology.
Launched last August in three KP districts, the project has generated more than Rs. 37 million ($260,000) in revenue and created more than 89 jobs, according to KPITB. The effort now will expand to seven districts.
The goal of Durshal is to encourage the digital transformation of the province by establishing a network of community spaces to provide youth opportunities to collaborate, innovate, receive training and launch new businesses.
It is also an opportunity to utilise the strength of youth in healthy and profitable activities, steering them away from negative pursuits like drug use or extremism.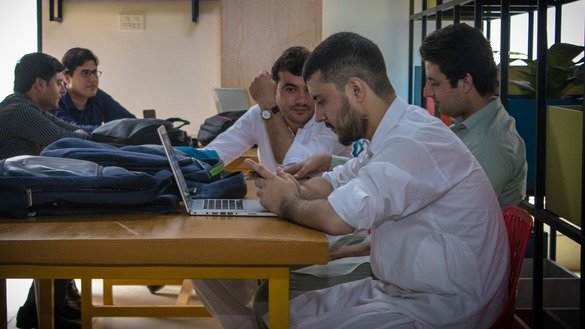 Durshal provides vital links among local governments, the tech industry, IT entrepreneurs and investors to support KP's digital transformation.
In addition to generating revenue and providing livelihood opportunities, the programme has set the basis for innovation and development in the IT sector by providing financial assistance and training.
Success in start-ups
As part of the project's launch last year, KPITB selected 13 start-up teams for training in three districts -- six in Peshawar, four in Mardan and three in Swat, according to Dr. Shahbaz Khan, the managing director of KPITB.
In Peshawar, the project has created 47 jobs in the IT sector followed by 23 jobs in Mardan and 19 in Swat, Khan said.
"The start-ups in Peshawar have generated Rs. 16.8 million ($120,000) in revenue along with creating business links with 25 local and two international clients," he told Pakistan Forward.
"In Mardan, the start-ups developed business with 215 local companies and generated Rs. 19 million ($130,000) in revenue. The four start-ups in Swat brought 35 local and four international clients onboard and generated revenue of Rs. 1.9 million ($13,000)," Khan said.
"Durshal is the right platform for our youth and young entrepreneurs," Kamran Khan Bangash, special assistant on information technology to KP Chief Minister Mahmood Khan, told Pakistan Forward.
"Durshal nurtures and guides young graduates in starting their own businesses and contributing their part to the digital sector of KP," he said.
"The keen interest of youth in these projects and the fast growth of the IT sector in the region indicate that we have defeated terrorism," Bangash said. "Our youth love peace; they need opportunities … our government will provide more roadmaps like the Durshal programme to youngsters."
Developing innovation
Durshal works on the principle of conducive ecosystems, according to Zahid Nawaz, a project manager with Durshal.
The micro-level ecosystem ensures communication and idea-sharing among different teams situated at a single location, and the macro-level ensures communication or sharing of ideas between different teams situated in different places, he told Pakistan Forward.
Fizza Majeed, a graduate of the Durshal incubation centre in Peshawar and co-founder of the Aqua Green start-up, told Pakistan Forward that she gained valuable knowledge during her six-month incubation period.
Majeed and her friends worked on different environmental sensors and developed a system to automatically irrigate farmland.
"I believe that the training provided at Durshal enhanced our technical capacity to develop innovative ideas and gave us the confidence to establish our own start-up companies," Majeed said.