PESHAWAR -- The Khyber Pakhtunkhwa (KP) government has approved a bill that could impose the death penalty for those possessing more than 1kg of crystal meth.
Fighting drug use is expected to help combat terrorism. In Afghanistan, 99% of illicit drug revenue goes to terrorists and drug traffickers, according to Kabul.
The provincial cabinet approved the "Khyber Pakhtunkhwa Control of Narcotics Substances Bill 2019" April 16. Passage by the KP assembly is expected.
"The objective behind the ... the new law is to prevent the increasing use of meth, especially among youth," KP Minister for Information Shaukat Yousafzai told Pakistan Forward.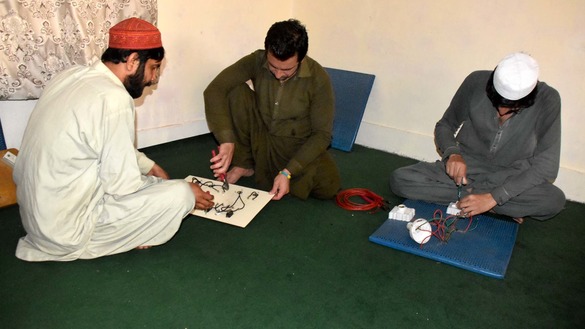 The bill proposes severe penalties for defendants convicted of trafficking in or using crystal meth ("ice"), he said.
It proposes two years' imprisonment and a fine, or both, for possession of up to 50 grammes of ice, he said.
Major offenders could face execution or life imprisonment for the possession of more than 1kg of drugs, along with a fine of Rs. 500,000 ($3,530) or Rs. 1 million ($7,150), Yousafzai said.
The draft law proposes setting up special courts and a police unit to specifically target drug dealers and smugglers.
The new law will provide law enforcement the tools to arrest and prosecute suspected ice dealers and users, said Yousafzai, adding that the drug's relatively recent appearance had impeded authorities' ability to combat it.
Dealing with ice
"The decision ... will prove very helpful in containing the use of ice and other intoxicants by our youngsters," Dr. Jawad Hussain, administrator of Pakistan's first Ice Rehabilitation Centre (IRC), situated in Peshawar, told Pakistan Forward.
The use of ice among youth is growing sharply, and moving aggressively against ice dealers is a very timely decision by the government, he said.
The KP government is serious about eradicating drugs from society, hence the stricter laws, he said.
More than 400 addicts from nationwide have benefited from IRC since it opened January 28, according to Hussain.
"We have the capacity to treat 100 patients, and presently about 80 are admitted at the centre," Dr. Azam Shoaib, IRC rehabilitation officer, told Pakistan Forward.
Female addicts have sought IRC treatment but had to go to other facilities because it lacks female staff, Shoaib said.
The proposed law should sever the supply chain of dealers, he said.
Dr. Khalid Mufti, a Peshawar psychiatrist and director of the Ibbadat Hospital, which treats mental illness, expressed concern about rising national rates of drug addiction.
"Ice intoxication has a very grave ... impact on mental health, and its increasing use is a serious concern," he said.
"The KP assembly should forthwith pass the law," he said.
Shattered hopes
Pakistanis who have suffered from drug abuse's effects support the bill.
A law with tougher penalties for dealers is needed, said Amjad ur Rehman, 30, a patient at IRC.
"The main reason behind using ice is the ease of buying it," Rehman told Pakistan Forward. "If the government wants to protect the public from ... ice, it must take strict action against its dealers."
"My son Farman, 24, ... worked as a labourer at Karkhano (Industrial) Market on the outskirts of Peshawar," said Salar Khan, a Peshawar resident whose son is a patient at IRC.
His ice addiction not only wrecked him physically "but shattered our hopes" for him, Khan told Pakistan Forward, adding that drug dealers deserve the harshest punishment.