PESHAWAR -- Police in Peshawar have launched an anti-drug campaign focused on methamphetamine as addiction rates among young men and women in Khyber Pakhtunkhwa (KP) reach alarming levels.
Methamphetamine, also known as "crystal meth" or "ice", is a synthetic drug that addicts can inhale through a pipe, swallow or inject.
"We have launched a special 'Ice-Free Peshawar' campaign all over the city from August 17 to go after manufacturers, smugglers, sellers and users," Capital City Police Officer Qazi Jamil ur Rehman told Pakistan Forward.
Local authorities have registered more than 115 cases over the past few weeks against the meth dealers, he said, adding that they arrested more than 160 suspects and recovered a large quantity of the synthetic drug.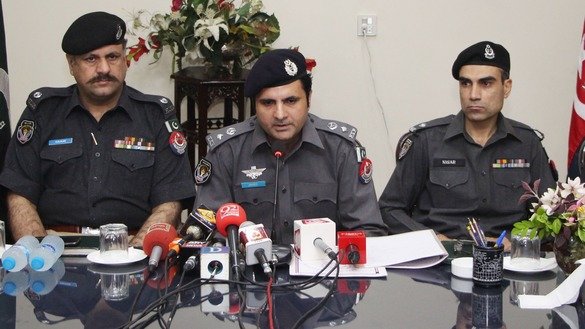 "Special raiding parties under each respective area's [superintendent of police] have been formed to go after drug dealers within the limits of each police station to uproot the menace," Rehman said.
Enlisting the public
Police have asked local elders, religious scholars, elected representatives, district administrators, university administrators and the media to help them protect the younger generation from the drug that has spread rapidly through KP Province.
According to Rehman, police have asked "university and college administrations to help sensitise students about ice and other drugs" and asked clerics to "deliver sermons during Friday prayers ... about their dangers."
"The use of drugs, especially of ice, has reached a very high level among the locals, including youth, and serious efforts are needed to reduce their use and harmful effects," Shawana Shah, a civil society member from KP, told Pakistan Forward.
Meanwhile, police asked the KP government to write new laws aimed at curbing ice because existing laws say nothing about synthetic drugs, said KP Senior Superintendent of Police Operations Javed Iqbal.
"Strict punishments for those involved in the manufacturing and selling of ice and other drugs will help reduce their use," Iqbal told Pakistan Forward, adding that raids are occurring daily.
"We are working on improving intelligence on the [illicit] businesses and setting up a database of all [known] sellers and users of ice," said Iqbal.
The general public should support the police in uprooting the business of ice and other drugs, he said.
"We are arranging public walks, holding seminars and displaying banners all over the city to raise awareness about the harmful effects of narcotics and seek [the public's] help in identifying sellers and addicts," Iqbal said.
A deadly drug
"There are no specific laws to go after synthetic drugs," Qaisar Khan, a Peshawar-based crime reporter, told Pakistan Forward, adding that addictions caused by the drugs have already led to deaths.
"Ice has become an important part of private dance parties both in KP Province and in other parts of the country, enabling many dancers and party-goers not to feel tired for up to 24 hours," said Khan.
Adding that some drug specialists believe that ice is much more intense than cocaine, Khan said that "doctors believe that ice affects various human organs within a few months and can lead to early death."