PESHAWAR -- Pakistani police have arrested a man who allegedly spread disinformation in an unsuccessful attempt to sabotage the nation's polio vaccination drive.
The Khyber Pakhtunkhwa (KP) government on Monday (April 22) launched a three-day anti-polio campaign, Geo TV reported. Pakistan is targeting about 39.4 million children under the age of five, including about 6.8 million who are in KP.
Tehreek-e-Taliban Pakistan (TTP) insurgents for years have been part of a campaign of disinformation and ignorance against polio vaccines.
The same day the anti-polio campaign began, various spurious videos and messages claiming that polio vaccines were making children sick sparked panic, with thousands of children brought to KP hospitals.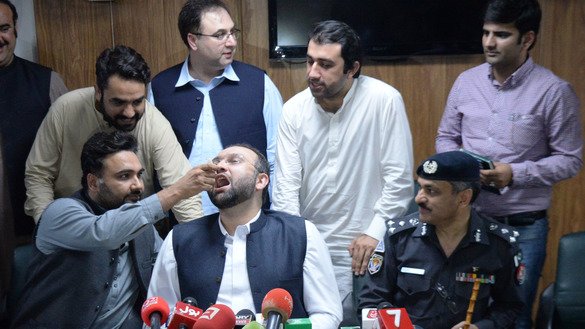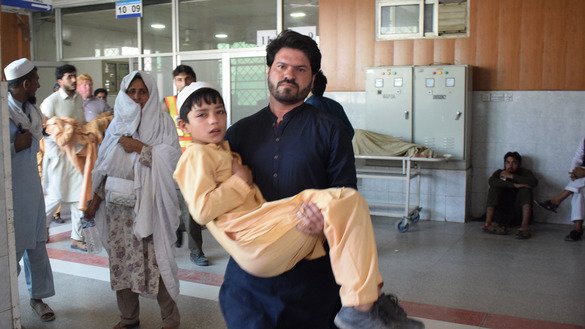 Complaints of vomiting and abdominal pain were caused by hysteria, not by the polio vaccine, which is safe, doctors said.
Nazar Mohammad, a villager from Badhaber, was detained in connection with charges of staging a video that claimed children were falling unconscious after receiving polio drops, according to Babar Bin Atta, Prime Minister Imran Khan's focal person for polio eradication.
In videos circulated on social media, Mohammad can be seen asking children to pretend to fall ill after vaccinations.
"We have exposed all those behind the propaganda and have now decided the vaccination drive will continue all over the country" as scheduled, Atta told Pakistan Forward.
The campaign was not halted at any location in defiance of the rumours, he said.
The panic started at one school in Mashokhel that had refused polio drops for years but began vaccinations this year, Atta said.
"From the one school, the rumours spread to Mashokhel village, where residents took to the streets and set on fire a basic health unit and also attacked polio workers," he said, adding none of the children brought to hospitals verified the claims of being sickened by the vaccine.
"We have lodged cases against 12 people and arrested one of the key men behind the propaganda, and raids are being conducted to arrest others," Atta said.
Fighting disinformation
Pakistanis are pushing back against the rumours and confirming that the polio vaccine are safe.
At a press conference, Atta administered polio drops to KP Health Minister Hisham Inamullah Khan to prove they were safe.
The minister said in a video message that the vaccine is safe and that he launched the recent campaign by vaccinating his own children.
"Dangerous fake campaign against polio vaccination -- using kids and destroying a health facility for a destructive and warped agenda -- playing with the lives of our children," Federal Minister for Human Rights Dr. Shireen Mazari said on Twitter.
She confirmed a man had been arrested, adding that Pakistanis should think before falling into such traps.
"I also took my children to hospital, and there were rumours all over that some of the children died after they were given polio drops," Safeer Ahmad, 48, a resident of suburban Peshawar, told Pakistan Forward.
He called for action against those involved in spreading the rumour.
"The government should expose all those people as the propaganda can harm future polio campaigns," Ahmad said.
"The vaccine is safe, and there is no issue with the drops," Dr. Gohar Amin, a senior Peshawar paediatrician, told Pakistan Forward. Vomiting and diarrhea among children have increased during the last few days because of changing weather, he added.
"All the parents must go for the vaccine and should reject the propaganda," Amin said.