PESHAWAR -- Khyber Pakhtunkhwa (KP) has installed a closed-circuit television (CCTV) surveillance system in a government higher secondary school in an effort to improve security and monitor the educational environment.
Authorities have installed 32 CCTV cameras at Government Shaheed Mubeen Shah Afridi Higher Secondary School No. 1 in Peshawar. Another 16 are set to be installed within a few weeks.
"The system cost Rs. 500,000 ($3,500)," Principal Atique ur Rehman told Pakistan Forward January 18, adding that it is the first such system in the province.
"Now our school and even classrooms have been secured according to government guidelines," he said.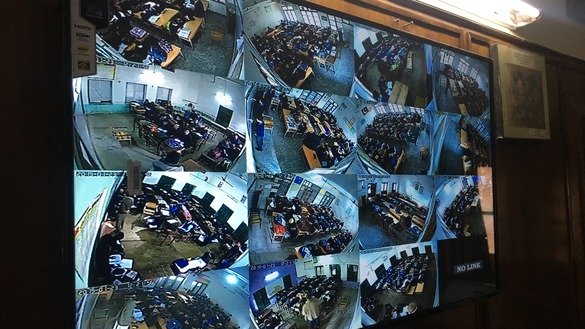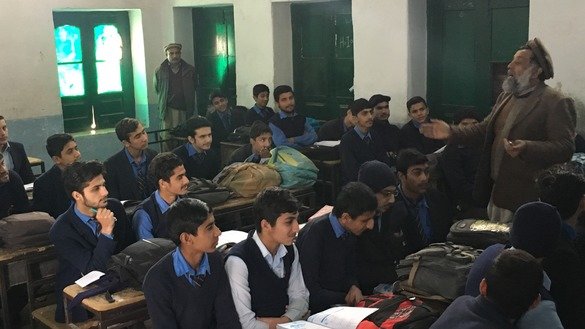 The guidelines were made to ensure the safety and security of schools after the December 2014 terrorist attack at the Army Public School (APS) in Peshawar.
"The system will be soon connected with the KP education department," he said.
"Now we are able to monitor and supervise all the classrooms' academic activities," Rehman said. "CCTV cameras allow us to know how the teachers teach and whether students are learning."
Personnel in the school's security office have monitors enabling them to view the footage from the cameras.
"Parents will obtain access if the government allows it," he said, adding that students can also view recordings of lectures after absences.
Keeping teachers, students in check
Teachers and students are now conscious of being watched and are on their best behaviour, according to Rehman and other members of the school community.
The installation of the cameras in classrooms has ensured the availability and presence of teachers in classes, said Muhammad Farhad, 17, a 10th grader at the school.
"Now we feel secure and attentively listen to the lectures of teachers without any fear of attack," he told Pakistan Forward.
"Cameras also ensure discipline among those students who are not serious in their studies," he said. "The serious students are now happy."
"This is a totally new idea -- none of the government schools have installed this type of modern technology," said Awais Muhammad, a teacher covering grades 6-8 at the school.
"Violence in class, corporal punishment and other activities other than teaching are no longer possible," he told Pakistan Forward.
"Now the flaws in teaching methods can be removed ... which ultimately will benefit students," he said.
Maintaining security
"Our school has become the first in KP, including tribal areas, to ensure the government guidelines for the 'Safe and Secure Classrooms' programme by introducing a CCTV surveillance system," Vice Principal Iqtidar Ali told Pakistan Forward.
"Now the administration of the school can check the security arrangements at any moment, including the security pickets," he said.
"Now students in classrooms cannot steal anything from others' bags, and they will act more appropriately," Ali said.
"Cheating will be rooted out," he said, adding that the KP Board of Intermediate and Secondary Education will gain access to the CCTV system.