ISLAMABAD -- Pakistan witnessed a "remarkable reduction" in militant attacks in 2018 compared to 2017, according to a year-end report prepared by the Islamabad-based Pakistan Institute for Conflict and Security Studies (PICSS).
The report, released January 1, found a 45% decline in militant attacks in 2018, as well as a 37% drop in the number of deaths and 49% drop in the number of injuries as a result of such attacks.
Last year, militants carried out an estimated 228 terrorist attacks in various parts of the country, the report said.
The attacks claimed 577 lives, including 356 civilians, 152 security personnel and 67 militants. Two civilians volunteering with security agencies also were killed.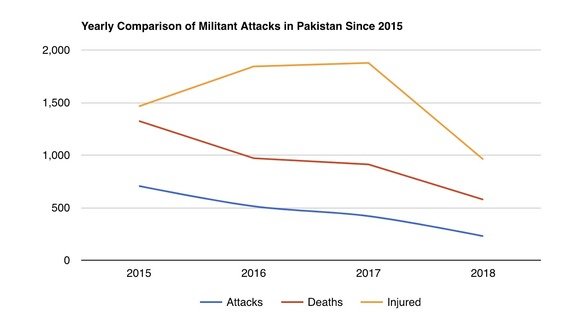 Some 959 individuals were injured in militant attacks, including 693 civilians and 261 security personnel.
The average number of monthly terror attacks has declined steadily since 2014, PICSS reported. In 2018, there were 19 militant attacks on average per month, down from 35 in 2017, 42 in 2016, 59 in 2015 and 134 in 2014.
Suicide attacks also saw a country-wide decline, estimated at 18 in 2018 compared to 23 in 2017, the report said.
July, when Pakistan held its general elections, was the deadliest month of the year.
An estimated 228 individuals were killed in militant attacks targeting election rallies and campaigns in July -- making up 40% of all terrorism-related deaths for the year, according to PICSS. Another 423 were injured in July.
PICSS credited Operation Zarb-e-Azb, launched in June 2014, for the "consistent decline in militant attacks".
Military operations play 'vital role' in security
"Various military operations launched in the tribal areas played a vital role in containing militant attacks in the country," Brig. (ret.) Mehmood Shah, a Peshawar-based senior security analyst, told Pakistan Forward.
"These operations eliminated several key militants," he said.
"Although Tehreek-e-Taliban Pakistan (TTP) and other banned militant outfits are launching attacks in Pakistan from Afghanistan, they are facing difficulty in fuelling bloodshed in the country," Shah said.
"Unlike in the past, the tight security, including fencing of the border and intelligence-based operations against the militants, has helped contain militancy," he said.
"The security agencies must continue the intelligence-based operations more vigorously throughout the country, especially in areas where the militants are strong," Karachi-based security analyst Col. (ret.) Mukhtar Ahmed Butt told Pakistan Forward.
"The government and security agencies must also further tighten their grip to rein in those who are involved in money laundering and terrorism financing and take stern actions against them irrespective of their political and religious affiliations," he said.