ISLAMABAD -- Pakistani security forces have stepped up counter-terrorism operations in recent weeks, killing or arresting a number of al-Qaeda and "Islamic State of Iraq and the Levant" (ISIL) commanders in March.
"In March, security forces killed 85 militants belonging to different terror outfits and apprehended 158 suspected militants," Abdullah Khan, managing director of the Islamabad-based Pakistan Institute for Conflict and Security Studies (PICSS), told Pakistan Forward.
"Security officers killed one high-value target, ISIL commander Kamran Aslam, in Karachi, five al-Qaeda elements were killed in Gujrat, while three ISIL members have been apprehended in Bahawalpur in March this year," PICSS Research Director Gul Dad told Pakistan Forward.
"The identities of the five al-Qaeda members killed in Gujrat March 30 and the three ISIL members rounded up in Bahawalpur March 31 are being kept secret for security reasons [while] interrogations are on-going," he said.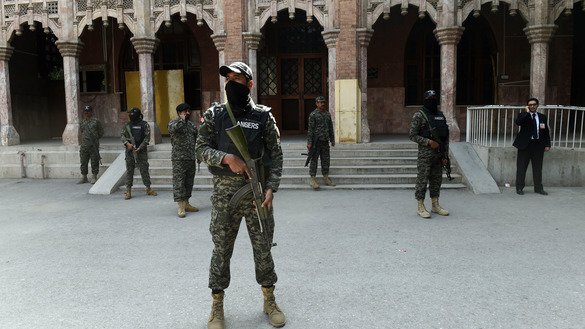 Police and Criminal Investigation Department (CID) personnel killed ISIL commander Kamran Aslam Gujjar in Karachi March 18, Karachi Additional Inspector General of Police Mushtaq Mehar told media the same day.
Aslam Gujjar was a "trained ISIL commander" who was affiliated with al-Qaeda in the past and was involved in 38 slayings in Karachi, Mehar said.
Aslam Gujjar had a bounty of Rs. 2.5 million ($24,000) on his head, according to Dawn.
Also on March 18, several Tehreek-e-Taliban Pakistan (TTP) leaders hiding in Afghanistan were killed in a US air strike.
The TTP has confirmed on social media the deaths of TTP commanders Yusuf Wazir, Taj Ali Khan, Abdul Haq and Fazal-e-Haq.
Casualties from militant attacks decline
Violent incidents, including militant attacks and security force actions, fell slightly in March compared to the previous month, according to the PICSS Monthly Security Assessment Report.
In 107 overall violent incidents in March, compared to 114 incidents in February, 141 people were killed -- 85 militants, 32 civilians and 24 security force personnel, said the report. The figure of 141 compares to 288 analogous deaths in February.
Casualties resulting from militant attacks alone also declined in March.
"After witnessing a sudden jump in deaths and injuries during the previous month, March witnessed comparatively fewer casualties and injuries though [the] number of attacks ... was exactly the same," the report said.
In 40 militant attacks last month, 74 people were killed, including 32 civilians, 17 security force personnel and 25 militants, according to the report.
In February, militant attacks caused 163 deaths. The month-to-month decline in militant-inflicted deaths was thus 55%.
Zero tolerance for militancy
The government and security organisations are showing zero tolerance for militancy in any part of the country, said Sarfaraz Hussain, a spokesman for the Ministry of Interior.
"In Sindh, particularly Karachi, security officers, especially Rangers, are aggressively conducting intelligence-based operations against militants in co-ordination with intelligence agencies," he told Pakistan Forward.
Targeted security operations in Karachi since September 2013, when Rangers launched a broad crackdown on crime and terrorism in the city, have minimised the intensity of extremism and terrorism in Sindh and other parts of the country, Hussain said.
"Security officers will continue their efforts to eliminate extremism and militancy," he added.
"Rangers should be given free rein in Sindh and Punjab provinces to carry out ruthless operations against the militant groups," Mubasher Mir, security analyst and resident editor of the Daily Pakistan in Karachi, told Pakistan Forward.
ISIL and its allied terror outfits are gathering in Afghanistan to carry out terrorist attacks in both Afghanistan and Pakistan, he said, and the security forces need the authority to stop them in their tracks.
The recent US dropping of a massive bomb on ISIL hideouts in Nangarhar, Afghanistan, was "a good sign for discouraging militancy, and the Pakistani government and security forces should further tighten the noose around the notorious militants", Mir said.
"ISIL, TTP and their allied groups are carrying out attacks in Parachinar, Pakistan, situated close to Paktika in Afghanistan, the stronghold of the militants," he said.
Mir expressed support for fencing, surveillance and tight border management.
"Proper border management [...] will further minimise militancy and terrorist attacks in the country," he said.