PESHAWAR -- Raising school enrolment figures has surfaced as a priority in Khyber Pakhtunkhwa (KP).
Mahmood Khan, the KP chief minister, Friday (September 14) launched a mass enrolment drive in hopes of attracting out-of-school children.
If the plan works, about 250,000 school-aged children --- not attending for reasons like the need to work to support their families -- would enrol in KP government schools this year.
The kick-off enrolment ceremony took place at Govt. Shaheed Hasnain Sharif Higher Secondary School No. 1 in Peshawar. Senior KP officials, personnel from the KP Directorate of Education, and students about to enrol at a number of KP schools all attended.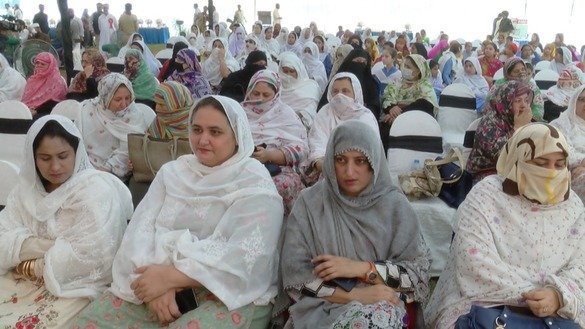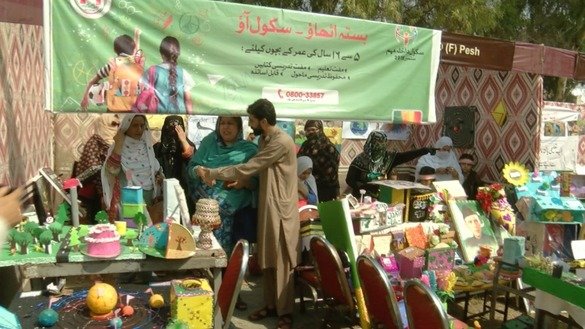 "Education has been given the topmost priority [in KP]," said Khan at the ceremony, calling it a "prerequisite for development".
The KP government's education policy is yielding positive results, he said.
Building on past work; facing formidable obstacles
The KP government will "further strengthen" its predecessors' efforts to promote education, Ziaullah Bangash, advisor to the chief minister for elementary and secondary education, told Pakistan Forward. He urged the public to help ensure 100% enrolment.
A succession of KP governments has recognised the need to educate children to make them resistant to the influence of extremist propaganda.
The enrolment campaign will raise public awareness of the need for education and raise the literacy rate in KP, said Meraj Humayun Khan, a KP educator and founder of De Laas Gul, an organisation that promotes education in the province.
The campaign has a formidable number of children to enrol even if it meets its goal of 250,000. The province has "more than 1.9 million out-of-school children between ages 5 and 9", she said.
Most small children in KP are attending school by now, but authorities so far have implemented the Free Compulsory Primary and Seconday Education Act, 2017, in only a few of KP's 25 districts, said Humayun, who has served as a KP minister and member of the KP Assembly.
Until the act -- which frees families from paying for incidental expenses like books and uniforms -- becomes the law in all 25 districts, schoolchildren are at risk of dropping out over time as those expenses make parents question the value of keeping children in school.
The problem becomes especially acute for children aged 9 to 15, who to some desperate parents look old enough to work.
Informing parents
Some observers warn of such attitudes, which interfere with keeping children in school.
Authorities need to create awareness among parents of the value of education, said Amir Gumryani, educator and founder of Sabaoon Academy Pabbi.
An estimated 22.5 million Pakistani children aged 5 to 16 are not attending school, including 13 million girls, he told Pakistan Forward, adding the KP government has to recognise the direness of the situation and to build more schools.
All of KP has only 722 girls' schools, he said, calling for construction of girls' schools in each tehsil.
Meanwhile, investment in the capacity building of teachers on modern lines as well as improvement of schools facilities are of a crucial need for which the [provincial] education budget be increased, he said.