PESHAWAR -- The Khyber Pakhtunkhwa (KP) government, with the help of international donors such as the US Agency for International Development (USAID), has rebuilt 179 schools across the province that militants damaged during the war against terrorism.
In Swat, Buner, Lower and Upper Dir districts, workers rebuilt 162 schools. They reconstructed another 12 in Bannu, 3 in Hangu and 1 each in Kohat and Tank districts, according to the Provincial Disaster Management Authority (PDMA) in Peshawar, officials told Pakistan Forward March 25.
Most of the schools were damaged in 2007 to 2009. Workers had finished a majority of the necessary reconstruction by 2016. Still, some educational facilities are awaiting complete rehabilitation, said the PDMA.
Of the total, 49 educational institutions, including 42 schools, four colleges, two polytechnic institutions and the Wadudia Model School of Swat, were rebuilt with the financial assistance of the United Arab Emirates (UAE) under the Pakistan Assistance Programme (UPAP), according to the PDMA.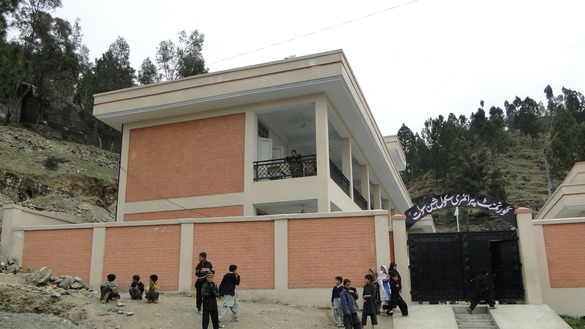 In addition, the Provincial Reconstruction, Rehabilitation and Settlement Authority (PaRRSA) with Rs. 3.5 billion ($25 million) donated by the US Agency for International Development (USAID) rebuilt 113 damaged schools in Malakand Division.
The Pakistani army, the KP government and NGOs, with financing of Rs. 2 billion ($14 million) provided by the Pakistani government, rebuilt militant-damaged schools in Bannu, Hangu, Kohat and Tank districts.
Increased capacity
"We have completed reconstruction of almost all damaged schools, colleges and other educational institutions in Malakand Division, a target achieved completely with the financial assistance of USAID and the UAE," Latif ur Rehman, spokesman for PDMA-PaRRSA, told Pakistan Forward on March 25.
"Now the rebuilt militant-hit schools have more rooms and other facilities," he said, adding that the new capacity means more new students are able to be attend school.
There has been a "30% to 40% increase in enrolment at reconstructed schools", Rehman said.
Local residents, parents, students and teachers are delighted with the improved buildings, Abdul Hakim, a monitoring officer with PDMA-PaRRSA, told Pakistan Forward.
"I frequently make visits to these schools and meet with the school administrators, teachers, students and parents to keep myself updated on their views, thoughts and suggestions," he said. "Parents, teachers and students are happy with the new facilities."
Hakim said primary schools consisted of two rooms before being damaged; the reconstructed ones have six.
Muhammad Gul, an education official at the Matta Circle Swat District, also said he has visited all the schools in the area. Local residents appreciate the efforts of PaRRSA and USAID in providing the funds for school reconstruction, he said.
Work shifts to tribal districts
Workers have reconstructed almost all schools damaged by militants, particularly in Malakand Division, Arshad Khan, secretary of elementary and secondary education in KP, told Pakistan Forward
"All damaged schools have been rebuilt," Khan said. "The reconstruction of the remaining 99 destroyed schools is in progress and will be completed very soon."
Militants and terrorists -- mostly in 2007 through 2009 -- destroyed 384 schools in KP and damaged 476 across the province, according to the KP education department.
The KP education department has started a survey in tribal districts to identify damaged schools in those areas and expects to complete it in two months, said Khan.
"Education is the top priority of the KP government," Ziaullah Bangash, adviser on education to the KP chief minister, told Pakistan Forward. "The militant-hit regions" in tribal areas are "now our target" for rebuilding, he said.
"Before establishing new educational institutions in the province, we are concentrating on the reconstruction of schools and colleges -- whether they were damaged by terrorism, earthquake or floods," Bangash said.