PESHAWAR -- Government-run schools in the newly merged districts of Khyber Pakhtunkhwa (KP) are set to get Parent-Teacher Councils (PTCs) as part of an effort to reduce drop-out rates and prevent radicalisation.
PTCs, a combined organisation of parents and teachers, are designed to work toward the development of the education process and ensure the safety of children.
Such councils often have the discretion to use school funds.
Under a decision made in March, more than 10,000 PTC members will receive training to run and manage more than 5,000 schools in the seven merged districts and six Frontier Regions (FRs) that have been ravaged by war over the past four decades.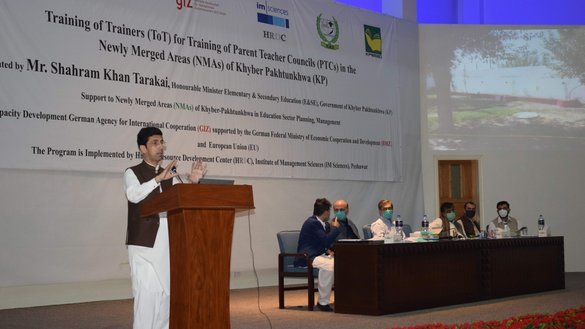 "We want to educate every tribal child as war and terrorism have deprived them of everything," KP Minister for Elementary and Secondary Education Shahram Tarakai said October 20.
"Schools in the former FATA will be upgraded to the [level of the] rest of the province with the aim of peace through education and development," he said, referring to the Federally Administered Tribal Areas, which merged with KP in 2018.
Education in the merged areas is a "top priority", he added.
A four-day train-the-trainer workshop for 91 teachers ended on October 7 at the Institute of Management Sciences (IM Sciences) in Peshawar, according to Haseeb Khan, the programme adviser.
The teachers will train the new PTC members in KP's merged areas.
"The training will empower schools how to prioritise their own needs through the creation of School Improvement Plans, utilise funds and monitor development activities," he said.
The training was implemented by the Human Resource Development Centre (HRDC) of IM Sciences, with support from the German Agency for International Co-operation (GIZ), the German Federal Ministry of Economic Co-operation and Development and the European Union.
The GIZ-FATA Development Programme (FDP) has signed a financing agreement with IM Sciences to provide technical assistance and capacity development at the district level in merged areas as part of the initiative, said Fayaz Ali Khan, a GIZ official.
Preventing militancy
The PTC initiative will help enhance the literacy rate in the tribal areas, restore shattered school buildings and improve transparency in the utilisation of funds, said Qamar Naseem, director of Blue Veins, a Peshawar-based civil society organisation working on human rights and education.
War and conflict destroyed much school infrastructure in the former FATA, he said.
In the merged districts, 79% of girls and 69% of boys are not enrolled in school. Increasing enrollment rates will go a long way in stopping youth from being coerced by extremist elements into joining militant groups, said Naseem.
"Only education and awareness can defeat terrorism as time has proved, so if we have more children in schools, we will be able to deny the recruiting grounds for terrorists," he said.
"If we have good facilities at these schools, we control the drop-out ratio of children who quit schools at a young age," said Dr. Syed Hussain Shaheed Soherwordi, chairman of the Peace and Conflict Studies Department at the University of Peshawar.
The PTCs will be effective in deciding the priorities of the community and will help ensure transparency, he added.
While keeping children in school is vital in fighting poverty, more schools and colleges are necessary if society wants to root out terrorism permanently from the merged districts, said Soherwordi.
"We should not allow them to again fall prey to war and militancy -- we have to boost our education system if we want a lasting peace in the merged areas," said Alamzeb, a trainer from Mohmand District.