GHALANAI, Mohmand Agency -- Authorities are conducting an operation to destroy poppy crops throughout Mohmand Agency.
The operation began April 2, with the first search-and-destroy phase ending April 8, Mohmand Assistant Political Agent Tauseef Khalid told Pakistan Forward.
The second phase is ongoing and will end in the first week of May, he said. "This phase is mostly based on information -- as we get information about the poppy fields, we go and destroy the crops."
"Ninety-five percent of the area has already been cleared," he told Pakistan Forward.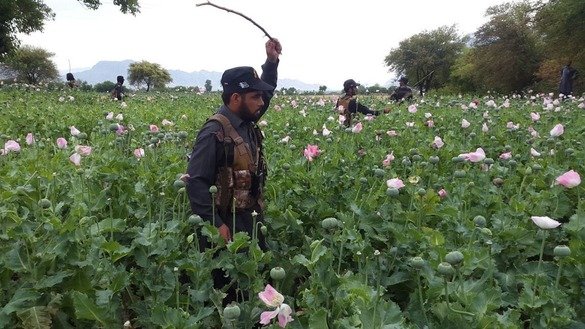 Officials have launched an awareness campaign against poppy cultivation, asking farmers to grow other crops, he said.
"We want to end this narcotics trade in our area," Prang Ghar tehsildar Jamshid Khan told Pakistan Forward.
"We can't allow poppy cultivation as an excuse for poverty in the area," he told Pakistan Forward.
Security personnel have cleared about 100 acres of land in different areas of Mohmand Agency of poppy crops, according to a statement from the political administration.
"We are thankful for the political administration for destroying the poppy crops," Maulana Abdul Haq, a Mohmand Agency tribal elder and religious scholar, told Pakistan Forward.
Such poppy crops are prohibited in Islam because they turn into opium and heroin, he said.