PESHAWAR -- Police in several Khyber Pakhtunkhwa (KP) districts recently destroyed poppy crops cultivated over a large area in a bid to curb the manufacture of illegal drugs.
"We conducted actions in the Gadoon and Razar subdivisions of Swabi District and destroyed poppy cultivated over about 200 kanals (25 acres) of land" where local farmers had cultivated poppy on their farms, said Imran Shahid, the district police officer (DPO) for Swabi.
"The policemen destroyed the crops and involved the local elders to ensure it is not cultivated in the district in the future," he said.
The operation to eliminate poppy crops arose from public concerns that criminals make illegal drugs from the plant, he added.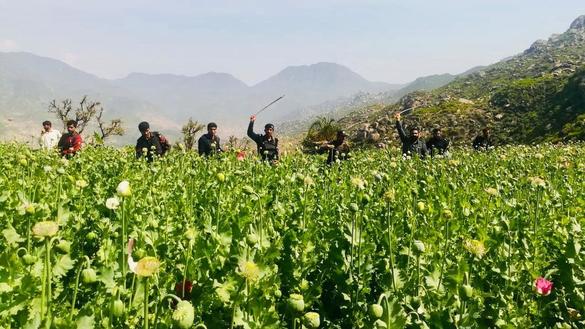 Extremist groups use the proceeds from trafficking illicit drugs such as heroin and "ice," or crystal meth, to help finance their violent activities.
"Some farmers in the remote villages of the district cultivate poppy every year so they can earn more," said Ijaz Ahmad, a resident of Razar.
Mohmand operations
The KP Police have an ongoing campaign against drug traffickers and have arrested many of them for selling, smuggling and manufacturing heroin, ice, hashish and opium, according to police officials.
In addition to Swabi, KP Police targeted poppy being grown in remote areas of Mohmand District and destroyed the crops in their jurisdiction.
"A police contingent comprised of about 75 personnel destroyed poppy crops on 53 farms spread over 115 kanals (14 acres) in the Prang Ghar area of Mohmand on March 22," said Fazal Ahmad Jan, the head DPO of Mohmand.
The campaign continues in the area and has destroyed more than 250 kanals of crops so far, he said.
Police are conducting raids to learn if any other local farmers have secretly cultivated more poppy, said Jan.
"During the action in the Aka Khel area of Khyber District, we destroyed poppy cultivated on several kanals," said Station House Officer Shamshad Afridi.
The crops grew in remote areas, but police act when they receive tips on poppy growers, he said.
Drug farmers have cultivated small poppy fields in remote parts of Peshawar in the past, he said.
"Police carried out operations in the Hassankhel and Sarband areas on the outskirts of Peshawar in recent years and destroyed poppy cultivated in some fields," said Qaisar Khan, a Peshawar-based journalist.
Police take action as soon as they hear about cultivation of the crop, he said.
"Now it can hardly be found," he said of poppy, referring to the contrast with past years.