QUETTA -- At least 18 people were killed and scores injured in a suicide bombing at a shrine of local Sufi in Jhal Magsi District of Balochistan province on Thursday (October 5), officials confirmed.
"So far 18 people were killed including three children in the blast," Deputy Commissioner of Jhal Magsi District Dr Asad Kakar told local media.
"The incident took place at the entrance of the shrine of Sufi Saint Syed Cheesal Shah," Balochistan government spokesman Anwar ul Haq Kakar told Pakistan Forward.
"The bomber tried to enter the shrine when people were gathered for the anniversary but the bomber detonated his explosive vest when he was halted by policemen," Kakar said, adding that two policemen were among dead.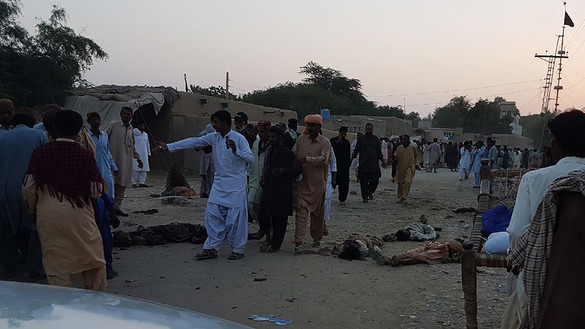 "The death toll might have gone up if the bomber could make the way to inside the shrine where hundreds of people were gathered," Balochistan Home Minister Mir Sarfraz Bugti told media, adding that policemen sacrificed their lives to save the hundreds who were nearby.
The victims were brought to the district headquarters hospital and the seriously injured would be transported to Quetta and other hospitals in nearby districts, Kakar told Forward Pakistan.
"Syed Cheesal Shah is known Sufi Saint of the area and usually people gather on every Thursday but today was his anniversary so the gathering was more then the usual one," a local journalist Taufeeq Ahmed told Pakistan Forward.
"The bomber might have wanted to access the people who were listening to poetry of the Cheesal Shah, and if he had succeeded to reach that gathering the the toll would have gone more than hundred," Ahmed said.
Beside the Muslim faithful many people from the Hindu community and other religions also participate in annual event at the shrine, Ahmed said.
The incident comes after a bomb attack on the same shrine -- located in the oil and gas rich Balochistan province, bordering Iran and Afghanistan -- killed 35 people in 2005.
There was no immediate claim of responsibility.
Prime Minister Shahid Khaqan Abbasi among other top officials condemned the attack and said that terrorists have no religion are the enemies of the state, Geo News reported.
The state will respond with full force and will not allow terrorists to disturb the peace, he said.