PESHAWAR -- Pakistani security forces are reporting the seizure of a massive arms cache from the basement of a residential compound in Kachai village near Kohat city.
Troops raided the house on December 27 acting on a tip-off, according to a statement issued by the district police office.
The forces found an ant-aircraft gun, rifles, mortar, dozens of mortar shells, thousands of rounds of ammunition, bombs and explosive materials, military officials who requested anonymity told Pakistan Forward.
The Khyber Pakhtunkhwa (KP) Bomb Disposal Unit moved the weapons and explosives to a secure location, local media reported.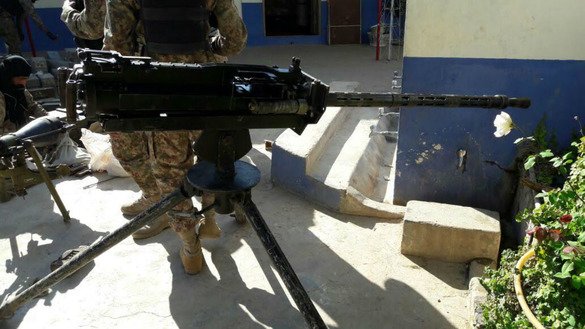 Residents relieved
Terrorists would have turned the weapons and explosives against civilians, area elders and local residents said, expressing relief over the successful security operation.
This was the first time that troops took such action in the area and residents are greatly relieved, said Muktiar Alai, nazim of the Kachai village council in the Ustarzai Union Council, where the huge arms cache was seized.
"We cannot dream about a peaceful Pakistan unless a complete crackdown is launched against such illegal arms," he told Pakistan Forward. "If guns and grenades are all around, how can we think peace is possible?"
"The security forces' initiative to purge society of weapons of mass killing must be praised," he said. "It's also time for the general public to join hands with the law enforcement agencies, to root this menace out once for all."
Targeting extremist groups in Kohat, Hangu and the surrounding areas will bring about great success in the war on terror, said schoolteacher Rahim Bangash of suburban Kohat.
Most of the local population feels hostage to extremist elements, he said.
"The heavy weapons they possess are a real threat, and they need to be recovered," he told Pakistan Forward, adding that the military must have a door-to-door combing operation in the areas adjoining tribal areas to wipe out militants there.
The targeted operation to recover the weapons cache has helped restore the public's confidence in the security forces, Kohat-based journalist Basit Gilani told Pakistan Forward.
Countering extremist sympathisers
The operation was a major counter-terrorism success, said Mussarat Jabeen, a children's rights activist and a resident of Dara Adamkhel region.
The military action against militants fighting in the mountains is not too difficult compared to countering those who morally support them, she said.
"The recovery of the weapons cache is a sign to extremist and militant sympathisers living in developed areas that they should stop harbouring and sheltering terrorists," she told Pakistan Forward.
Tackling the sympathisers is essential, agreed Prof. Hussain Shaheed of the University of Peshawar international relations department.
The National Action Plan has crushed militants militarily, but the targeted operation against sympathisers and sleeper cells like the one in Kohat is much needed, he said, referring to the counter-terrorism strategy in effect since January 2015.
"Operation Zarb-e-Azb has dislodged the terrorists from their strongholds, and now they are running with their weapons and seeking shelter in settled areas," he told Pakistan Forward, citing an army offensive in effect in North Waziristan since June 2014. "Now they must be hunted down, and that's what the Pakistani security forces are doing."