KABUL -- As the first anniversary of the death of Iranian commander Qassem Soleimani approaches, his legacy continues to torment impoverished Afghan migrants in Iran.
Soleimani, former head of Iran's Islamic Revolutionary Guard Corps Quds Force (IRGC-QF), was killed in a US drone attack on January 3 in Baghdad, but the Fatemiyoun Division, a pro-Iran militia that he founded, lives on, sending ill-trained, ill-equipped Afghan recruits to combat in Syria and other proxy war frontlines.
Evidence shows that the Fatemiyoun preys on impoverished Afghans working in Iran who are desperate to support their families, and now observers say the militia has become a serious threat to Afghanistan and the region.
Although the IRGC does not release casualty figures for Fatemiyoun, thousands of Afghan migrants have presumably died fighting proxy wars for Tehran.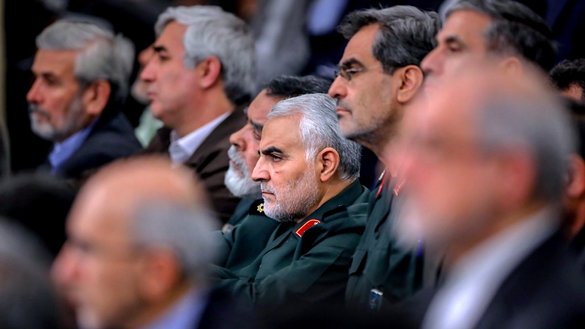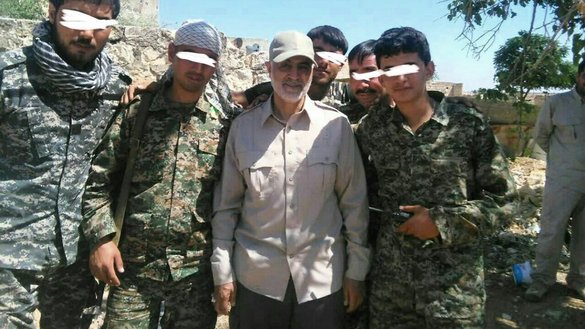 Some 917 Afghan nationals were killed in Syria from January 2012 to September 2019, Washington-based IRGC watcher Ali Alfoneh told Radio Free Europe/Radio Liberty in February, based on his own database.
Many Afghan recruits join the Fatemiyoun Division in exchange for promises of Iranian citizenship, benefits and a monthly payment to their families in addition to the monthly salary they receive as militia members.
Those lavish promises, Fatemiyoun veterans and relatives of dead Fatemiyoun members have complained, seldom come true.
"Iranian authorities have continued to recruit Afghan youths to Fatemiyoun, and these young people, because of their desperation, have proven to be useful manpower for Tehran," said Abdul Qader Kamel, a political analyst in Herat.
"The Iranian government wants to keep Fatemiyoun as a combat force and use it in any countries where it needs to fight," he added. "Therefore, the recruitment and training of Fatemiyoun members have not ceased."
Soon, Fatemiyoun might be fighting in its members' homeland -- not only in Syria.
The Iranian regime wants to use the Fatemiyoun Division in Afghanistan to thwart US interests and to expand its political and intelligence influence in Afghanistan, said Kamel.
In fact, in an interview a local Afghan TV channel on December 19, Iranian Foreign Minister Mohammad Javad Zarif said the Fatemiyoun "are the best forces the Afghan government can use if it wishes."
"Afghans are still concerned that Iran may create chaos once international coalition forces leave Afghanistan," Yousuf Amin Zazai, a military affairs analyst in Kabul, said in March, citing a possible future mission for Fatemiyoun.
Recruiting child soldiers
Afghans who have returned to their country from Iran share stories about migrants who signed up to be members of the Fatemiyoun Division.
A Fatemiyoun recruitment centre in Yazd Province, Iran, encourages young Afghans to join the militia, said Muhammad Idris, a resident of Helmand Province and a recent deportee from Iran.
"Iranian forces promise Afghan youths a residence permit and a place to live in Iran," he said. "They also promise to support their families permanently if they [the youths] go to war in Syria."
The elusive residence permit supposedly becomes available to Fatemiyoun veterans if they serve in Syria for three months, said Idris.
The IRGC promises to bury the militia members in Syria if they are killed in combat, he added.
"A young man who worked with me went to war in Syria, but he never came back," he added. "They [Iranian officials] asked me to go to war in Syria, but I refused."
Muhammad Sardar, 15, is a resident of Bamiyan Province. Since his recent deportation from Iran, he has been living in a United Nations (UN) refugee camp in Herat city.
His brother fortunately survived two dangerous tours with Fatemiyoun, but the IRGC reneged on its promises to him.
Last year, his then-16-year-old brother went to war in Syria and returned to Iran after three months, Muhammad said December 16.
"A few months ago, my brother Hussain was deployed to Syria again and returned after two months," added Sardar. "He now lives in Qom, Iran."
"Although the Iranian government had promised my brother that it would give him a house, residence permits for all his family members in Iran and a lot of money in exchange for his service in Syria, it gave him only a temporary residence permit and nothing else," he added. "Even though the Iranian government said it would not deport his family from Iran, it did deport me."
Those who intend to serve in Fatemiyoun are first moved to Tehran for 45 days of military training and are then deployed to Syria, Sardar said.
To fill the ranks of Fatemiyoun, Iranian authorities occasionally detain undocumented Afghan immigrants on various charges, including violations of migration law. They demand a fine of 1 billion IRR (roughly $4,281 at the black market rate) that no Afghan migrant could pay, said Abdul Latif, a recent deportee who now lives in Herat city.
The authorities offer Afghans who have no such money -- namely, all of them -- a choice between serving 25 years in prison or fighting in Syria, said Latif.
Crime against humanity
Sending children to war violates the UN Convention of the Rights of the Child and other international laws, said Mirwais Amini, director of the Afghanistan Independent Human Rights Commission's regional office in Herat Province.
"Countries and governments that use children in conflicts are subject to punishment and need to be prosecuted under international law," he added.
Anyone who forces children to participate in conflicts commits a war crime as well as a crime against humanity, said Amini.
Whether children are forced to fight in a war or naively choose to do so, their military service violates international law, and the perpetrators should be prosecuted, he added.
Using Afghan youths and children in Syria is an inhumane act and a crime, agreed Muhammad Idris Wahidi, a human rights activist in Herat.
"Most citizens of Afghanistan who have joined Fatemiyoun are underaged," he added. "They don't know anything about war, and they can easily get killed."
International legal institutions need to ask the IRGC to stop abusing young Afghans, including minors, in Iran, he said.
"Underaged [Afghans] are separated from their families in Iran, and the Iranian government sends them to war without letting their families know anything," he added. "This is the highest level of violence and crime."
"The Afghan government and international organisations should stop the recruitment of children by Fatemiyoun so that Afghans no longer fall prey to the goals of others," said Muhammad Ayub, a civil society activist in Herat city.