NANGARHAR -- Increased fighting between the Taliban and the "Islamic State of Iraq and Syria" (ISIS) has forced thousands of residents on the Afghan side of the border with Pakistan to flee their homes.
The skirmishes between the two rival insurgent groups broke out on April 14 and have been continuing intermittently since, Afghan military and government officials say.
"Battles between ISIS and the Taliban take place from time to time," said Ataullah Khogyani, an official spokesman from the Afghan province of Nangarhar. "They are still fighting in the remote areas of Khogyani and Sherzad districts."
Afghan artillerymen have shelled militant hideouts a number of times, inflicting casualties on both the Taliban and ISIS, said Capt. Haroon Yousafzai, a spokesman for the 201st Silab Corps of the Afghan National Army.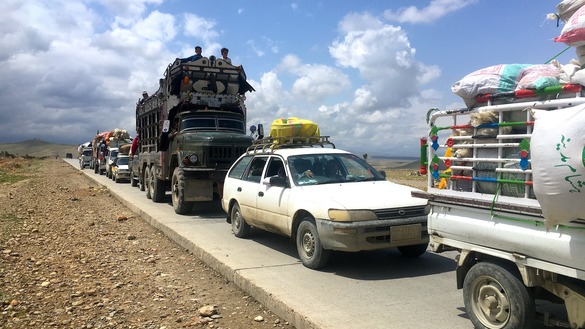 "Dozens of ISIS and Taliban members were killed," he said.
Authorities in Pakistan are on alert after ISIS declared the country a new "province" last week, amid a number of newly claimed attacks.
More than 8,000 families displaced
"So far, more than 8,500 families have been displaced from Sherzad and Khogyani districts" by the fighting between ISIS and the Taliban, Najibullah Qayumi, director of the provincial Directorate of Refugees and Repatriations, told Salaam Times.
"These families fled within two weeks and settled in various areas" such as Jalalabad city, he added.
The renewed combat is taking a toll on families who had returned to the area after fleeing earlier violence between the two groups, said Irfanullah Rahmat, a resident of the Sra Kala neighbourhood in Khogyani District.
"ISIS and the Taliban began fighting in the Wazir Valley a few months before," he told Salaam Times. "At that time, thousands of civilians and families fled the area and reached safe havens here."
"Now, not many residents live there because they are scared, but still some families who could not live in the city and in other areas returned to their areas, and they live in fear," he said.