PESHAWAR -- Prime Minister Imran Khan has ordered Pakistani authorities to look into providing a cancer treatment centre in Afghanistan as part of its development assistance to its neighbour.
Khan visited the Shaukat Khanum Memorial Cancer Hospital and Research Centre (SKMCH&RC) in Peshawar on April 19, meeting with Afghan patients who informed him about a lack of treatment back home.
He wants to build a SKMCH&RC branch in Afghanistan when peace returns to that country, he announced later in the evening during a public meeting in Orakzai District.
Khan, the chairman of the Shaukat Khanum Memorial Trust, asked relevant officials to "look into the possibilities of opening a branch of the SKMCH in Afghanistan so that people could be treated there".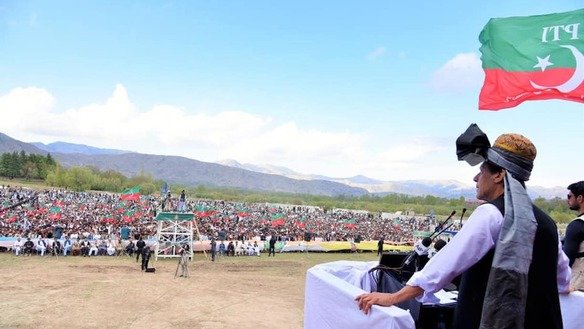 As chairman, Khan has built two cancer hospitals, one in Lahore and one in Peshawar. The construction of a third one is under way in Karachi in memory of his mother, who died of cancer.
'A great help'
Afghans make up 5% of patients who receive free services at the hospitals in Lahore and Peshawar each year, according to Dr. Assim Yusuf, the medical director of the two facilities.
"The construction of a branch in Kabul will help patients receive timely treatment. Cancer is common in Afghanistan," he said.
"We will contact the Afghan government to set up a walk-in clinic initially to screen patients," Yusuf said.
Most of the patients visiting Pakistan are in the last stages of their diseases and are not curable, according to Yusuf. The establishment of a facility in Kabul will help Afghans undergo check-ups and receive diagnoses in the early stages.
Afghan Minister of Public Health Dr. Ferozuddin Feroz welcomed Khan's announcement.
"We are thankful to Imran Khan for free services to our patients in SKMCH. We are waiting for a proposal from [Khan] regarding a hospital here," he told Pakistan Forward.
Breast cancer is one of the main afflictions of Afghan women, he said, adding that the prevalence of many common types of cancer is also a source of worry for the government.
Pakistan has been of great help in developing Afghanistan's healthcare network, he added.
Growing assistance
Khan made his announcement ahead of the inauguration of the Muhammad Ali Jinnah Hospital in Kabul on April 20.
Workers finished building the Pakistani-funded 200-bed hospital eight months ahead of its original completion date.
The Jinnah Hospital, completed at a cost of $24 million, is a gift from Pakistan to the Afghan people, said Pakistani Minister of State for Parliamentary Affairs Ali Muhammad Khan, who attended the inauguration ceremony in Kabul.
"It is a substantial contribution to the health sector of Afghanistan, which has been affected by the endless war and lawlessness," he told Pakistan Forward.
"We have been providing training opportunities to Afghan doctors, nurses and paramedics in our hospitals to strengthen medical care in the war-ravaged country," Khan added.
"We will continue to take all possible measures for the welfare of the people of Afghanistan," he said. "Pakistan wishes to see a stable, secure, peaceful, prosperous and sovereign Afghanistan."
The Jinnah Hospital is the flagship project of a Pakistani $1 billion development programme aiding Afghanistan, which is "in pursuance of Pakistan's policy objective of deepening and broadening people-to-people connections between the two countries", said Pakistani Ambassador to Afghanistan Zahid Nasrullah Khan.