ISLAMABAD -- Prince William and Kate Middleton, Britain's Duke and Duchess of Cambridge, arrived in Pakistan on Monday (October 14) for their first official visit to the country.
The royal couple were received by Foreign Minister Shah Mahmood Qureshi in Islamabad and visited the Islamabad Model College for Girls, where they spoke with students and visited classrooms. They later held meetings with President Dr. Arif Alvi and Prime Minister Imran Khan.
William and Kate are set to visit the SOS Children's Village in Lahore to meet with orphaned children, as well as Minar-e-Pakistan, Badshahi Mosque and Shaukat Khanum Memorial Cancer Hospital and Research Centre (SKMCH&RC). They will also head to Chitral and Khyber Agency.
The visit "will of course pay respect to the historical relationship between Britain and Pakistan", Thomas Drew, the British high commissioner, said on Twitter.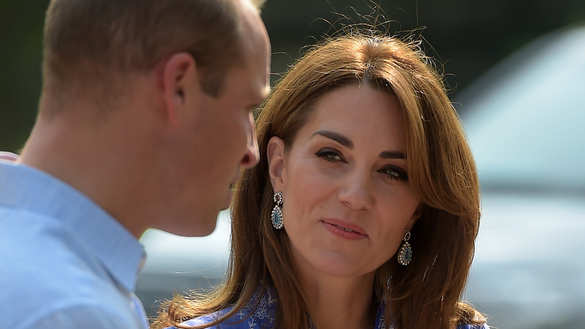 "But it will focus largely on showcasing Pakistan as it is today: a dynamic, aspirational and forward-looking nation," he said.
"Access to quality education, particularly to girls and young women, is one of the UK [United Kingdom]'s top priorities in Pakistan," a Kensington Palace statement said.
Pakistan hosts one of Britain's biggest diplomatic missions and receives more aid from the UK than any other country does, much of it spent on education.
The visit, which will end on October 18, was organised at the request of the UK Foreign and Commonwealth Office.
Kensington Palace described the tour of the Duke and Duchess as their "most complex" to date because of political tensions and security concerns.
More than 1,000 Pakistani police officers have been deployed to secure the couple's safety.
The return of peace
The return of peace and improvements in security enabled the five-day visit, which marks the first time a royal family member has set foot in Pakistan in 13 years.
Prince William's mother, the late Princess Diana, visited Pakistan in 1996 to attend a fundraising event for Shaukat Khanum Memorial Cancer Hospital and Research Centre (SKMCH&RC), which was built by now-Prime Minister Khan.
The visit "will send a clear message to the world that Pakistan has come out of trouble and is now safe for anyone to come here", said Lt. Gen. (ret.) Talat Masood, an Islamabad-based security analyst.
It is a welcome development that Pakistan is coming out of international isolation, and such a high-profile visit is testimony that the government has put the brakes on terrorism, he added.
Abdur Rehman, a political science teacher at the University of Peshawar, described the trip as a boost for Pakistan's image abroad.
"This visit will showcase to the world a modern Pakistan, where a government headed by former cricketer, Imran Khan, is close to the UK... the entire world will change its attitude toward Pakistan," he said.
The recent visit signifies Pakistan's effort to do away with terrorism and highlights the importance of peace and of the political, cultural, social and economic ties with the UK, Rehman said.
"Mostly, the visit will send a message across the world that Pakistan is a peaceful country that wants global co-operation for the sake of development of the whole region," said Kifayatullah Khan, who teaches international relations at the Abdul Wali Khan University in Mardan.