PESHAWAR -- Pakistani women from different walks of life Friday (March 8) took to the streets throughout the nation to raise their voice for women's rights throughout the world.
The march took place on International Women's Day.
Peshawar took the lead in this year's Aurat March, with demonstrations in other cities taking place later in the day.
Civil society activists, members of the media, lawyers, former lawmakers and politicians and women of other occupations took part in the march, which kicked off at the Peshawar Press Club and ended at the Archives Hall near the Peshawar Museum.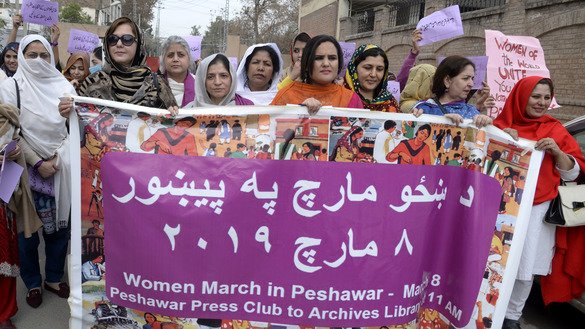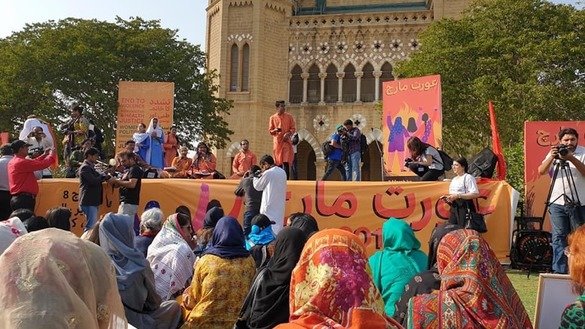 The participants, who carried placards and banners inscribed with slogans, stressed equal rights for women in all walks of life, an end to harassment and violence against women and more education and health opportunities for women.
"The Aurat March is a platform for women working in different organisations and forums all over Pakistan," Shahida Shah, a women's rights activist and social worker from Peshawar, told Pakistan Forward.
"It is basically the celebration of [International] Women's Day to raise voices for the rights of women in every field," said Shah.
Demanding equal rights
The first Aurat March took place in 2018. This year, it was held in Peshawar, Lahore, Karachi, Islamabad, Hyderabad, Faisalabad, Quetta, Mardan and other cities nationwide.
The marches in Lahore, Islamabad, Faisalabad and Peshawar kicked off from local press clubs. In Karachi, the march began from Frere Hall. In Hyderabad, it began from the Shahbaz Building.
"The event was organised by alliances and movements for women, students, political workers, lawyers, domestic workers, teachers and others who have pledged to take to the streets to demand an end to violence against women and other injustices," Shad Begum, a civil society member based in Islamabad, told Pakistan Forward.
Preparations for the Aurat March started several days before the event. Organisers held a news conference at the Empress Market in Karachi on March 5 on the preparations and invited the public to attend.
Female activists represented various parts of society at the news conference, including groups for fisherwomen and members of the transgender, Christian and Hindu communities, among others.
Their main demands include labour rights, reproductive rights, environmental justice, anti-sexual assault laws, wage equality, fair political representation and opportunities, education equality, equality for the transgender community and an end to violence against women, said participants of the conference and leaders of the Aurat March.
Commemorating International Women's Day
Aside from the march, thousands of women and men on social media celebrated International Women's Day.
"On Women's Day, we pay tribute to Fatima Jinnah who stood steadfastly beside the Quaid in his struggle for Pakistan," Prime Minister Imran Khan tweeted, referring to the sister of Muhammad Ali Jinnah. "We reaffirm our commitment to ensuring women a secure & enabling environment to play their rightful role in our nation's development."
"I march because a woman's voice and opinion matters. I march because women should be able to make decisions about their personal and political lives. I march so that my daughters understand what I did not," Amber Rahim Shamsi, a female anchor on SAMAA TV, tweeted.
Meanwhile, female Hindu Senator Krishna Kumari received the honour of chairing her chamber for a day.
"Chairman Senate of Pakistan decided to make our colleague Krishna Kumari Kohli aka Kishoo Bai to Chair the Senate for today on #WomensDay," Senator Faisal Javed Khan tweeted.