PESHAWAR -- The Khyber Pakhtunkhwa (KP) Police's Bomb Disposal Unit (BDU) has defused thousands of bombs over the past decade and is making strides in including women among its trainees.
Originally established in 1986 as a bomb disposal squad, the unit operated under the Special Branch, an intelligence wing of the KP Police. It became a proper unit in 2008 and in 2016 was subsequently upgraded to meet operational requirements across KP.
"The BDU is one of the most important units of the KP Police," KP Inspector General of Police (IGP) Salahuddin Khan Mehsud told Pakistan Forward.
"The unit has defused thousands of explosive devices, suicide vests, rockets, mortars and explosive-laden vehicles over the last decade," Waqar Ahmad, the KP Police spokesman, told Pakistan Forward.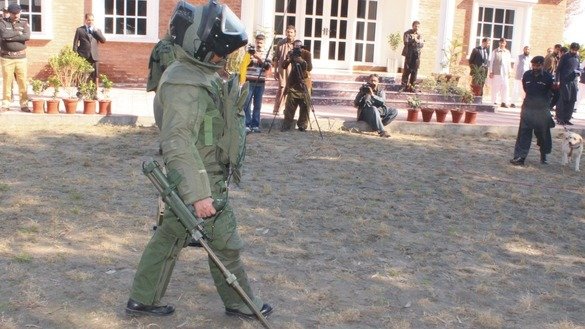 Many bomb disposal specialists in the unit, including inspectors Hukam Khan and Abdul Haq, have sacrificed their lives while defusing explosives over the past years, he explained.
"Even though terrorist incidents have been reduced to a great extent over the last few years, the KP Police BDU defused some 198 explosives in 2018," he said.
The KP Police BDU is arguably one of the busiest in the country, especially because the province has long served as a hotbed of extremism and terrorist activities, said Ahmad.
A growing female presence
Many female police have volunteered for bomb neutralisation training at the KP Police School of Explosive Handling in Nowshera District, according to Ahmad.
"Among the estimated 3,053 police officers who were provided basic bomb disposal training, 86 of them are female," said Ahmad.
"Female police, like their male counterparts, are now playing an active role in different units after going through specialised training as commandos and as bomb disposal experts," he said.
At least one female officer has been posted as a superintendent of police for operations, according to Ahmad, while about eight are serving as deputy superintendents.
"We have many female police officers heading one or the other wing of the traffic police, and they have been doing a great job," Peshawar Traffic Superintendent of Police Riaz Ahmad told Pakistan Forward.
An inspiration for all
"Breaking through the glass ceiling is never easy, and when it comes to joining the police force in KP and especially opting for bomb disposal or commando training, women need to have a heart of stone," Amina Khan, a Peshawar-based journalist, told Pakistan Forward.
The female law enforcement officers of the province are among the bravest in the country, she said.
"In KP, a place where the fear of suicide bombs, gunfire and crime pervades, pursuing such a career needs a lot of persistence," said Khan.
"When I met Rafia Qaseem back in 2015, who went through bomb disposal training, she was merely a police staffer who was telling me about her dreams of joining the BDU and doing something that is not easy for an ordinary woman to do," Khan said.
"The younger lot has much to learn from such wonder women," Khan noted. "They are an inspiration for all of us."