QUETTA -- Prominent Pakistani religious leaders and scholars urged the nation to promote Paigham-e-Pakistan -- the message of Pakistan -- and to play a constructive role in rooting out radicalisation and extremism in the country.
More than 1,800 Pakistani religious scholars issued the Paigham-e-Pakistan fatwa in January, condemning suicide attacks, armed uprisings and acts of terrorism in the name of Sharia.
Hundreds of religious scholars, parliamentarians and a predominantly local mix of men and women attended a conference December 3-7 in Quetta to address Paigham-e-Pakistan and Pakistan's efforts against extremism.
A major threat
The government must take practical measures to promote religious harmony, emphasised speakers at the conference.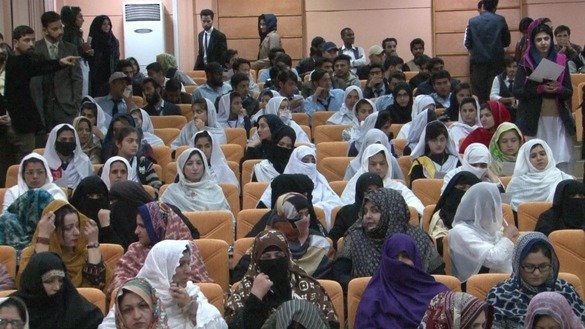 "Paigham-e-Pakistan is a vibrant and visionary narrative of Pakistan against extremism in the country," Qari Abdul Rashid Alazhari, a Quetta-based religious scholar and member of Pakistan's Council of Islamic Ideology, told Pakistan Forward.
"Extremism is one of the major threats to Pakistan," he said.
Paigham-e-Pakistan "is a powerful message through which we can transform the problem of terrorism, hatred, extremism and violence into an environment of peace, religious harmony and brotherhood," said Alazhari.
"Peace, brotherhood, patience and forgiveness are the real spirit of Islam, but the extremists and radical elements are exploiting this image of our religion," said Dr. Atta ur Rehman of Islamabad, a senior religious scholar who participated in the conference.
"The pursuit of an anti-extremism narrative in Pakistan is the need of the hour," he said, adding, "If the government delays the implementation of the Paigham-e-Pakistan effort, the growth of extremism will destroy the national structure."
"Extremism, in my opinion, is the biggest obstacle standing in the way of Pakistan's development," he noted. "It is important for the nation to understand the message of peace and harmony delivered in the Holy Koran and in the teachings of the Prophet Muhammad (PBUH)."
Countering extremism
The Paigham-e-Pakistan message will help Pakistan in its war against extremism, Qari Abdul Rehman Noorzai of Quetta, another Islamic scholar who attended the conference, told Pakistan Forward.
"Growing extremism, violence, sectarianism and ethnic prejudices in Pakistan have largely divided the nation; therefore, the promotion of religious harmony is a national requirement for ending extremism," he said.
"The self-serving anti-Islam and anti-Pakistan propaganda by the extremists has led us to hatred, religious disharmony and terrorism," Noorzai said.
Teachers and students in seminaries can play a vital role in advancing peace and harmony, said Noorzai.
"We have to dispel those negative perceptions of seminaries, which are negatively affecting the real ideology of our religion," he explained. "Islam is a religion of peace, and it has taught us to spread love and brotherhood."
A step toward peace
"The constitution of Pakistan is based on Islamic ideology; therefore, no one can impose his own interpretation in the name of Islam," said Akber Hussain Zahidi, a Quetta-based religious scholar and a member of Nazim Wifaq-u-Shia, a Shia organisation.
"Extremist groups are trying to impose their radical agenda on our society," he told Pakistan Forward.
"In my judgment, Paigham-e-Pakistan is an important step towards a peaceful Pakistan," Zahidi said. "The government must step up its efforts so we can overcome our mutual concerns via this platform and thwart the enemy by spreading tolerance and harmony."
The reach of Paigham-e-Pakistan has expanded because it is now available in Arabic, Mohammad Ayaz, an Islamabad-based senior official at the Ministry of Religious Affairs, told Pakistan Forward.
"It shows the success of our strategy that today the world recognises our key role in the fight against terrorism," Ayaz said, noting, "The government is taking special measures to provide modern education to our students in seminaries."
Those reforms include engaging madrassa students in extracurricular activities during free hours to "keep them away from extremist ideology", he said.