ISLAMABAD -- The Council of Islamic Ideology (CII), a Pakistani constitutional body that provides legal advice on Islamic issues to the government and the national assembly, has recommended stricter penalties for unauthorised religious scholars who either issue fatwas in favor of suicide attacks or declare others non-believers.
"The Paigham-e-Pakistan document, prepared 10 months ago with the support of 1,829 religious scholars representing four major schools of thought, declares suicide attacks, sectarianism, stoking of anarchy and waging of jihad without the state's consent as un-Islamic," Dr. Qibla Ayaz, the chairman of CII, told Pakistan Forward.
On November 28, Ayaz chaired a meeting in Islamabad to discuss the subject and acts of terrorism carried out in the name of Islam.
The Paigham-e-Pakistan fatwa was approved by 5,000 religious schools registered by Wafaqul Madaris, the largest federation of Islamic seminaries around the world, he explained.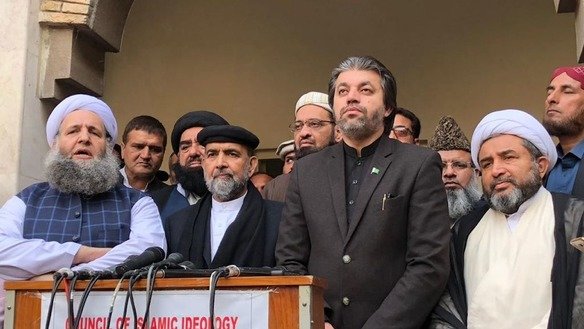 Unauthorised persons condemning perceived sinners to death and supporting suicide attacks need to be confronted sooner as they endanger lives, he said.
Enforcing legislation
The CII's recommendations stress rigid enforcement of the existing laws until the government enacts new legislation, Ayaz said.
"We have recommended strict penalties in line with existing laws and are making new laws to increase punishments for clerics wanting to promote extremism," he noted.
The CII wants the government to ensure enforcement of Section 298 of the Pakistan Penal Code in letter and spirit, which includes a penalty of $2,500 (Rs. 347,000) or three-year prison sentences for those issuing improper fatwas, added Ayaz.
"The responsibility to implement the recommendations of the CII is with the government, and we want severe punishment for those clerics who misuse their powers, issue fatwas declaring Muslims as non-believers or non-Muslims and pronounce them liable to be killed as per Sharia law," he explained, adding, "All such decrees have been rejected by the council."
"We have categorically told the ministers that the council rejects all such decrees issued against the law," he said.
The government will enforce the CII's recommendation to go after those who use religion to carry out terrorism, Noor-ul-Haq Qadri, the minister for religious affairs and inter-faith harmony, who attended the meeting, told Pakistan Forward.
"Our religion of Islam advocates peace and brotherhood," he said.
Meanwhile, Minister of State for Parliamentary Affairs Ali Mohammad Khan said he had told Prime Minister Imran Khan to seek the CII's guidance as part of his government's efforts to make Pakistan an Islamic welfare state.
"We want to strictly enforce the law to punish those who engage in terrorism and plan to commit killings under the guise of fatwas," he told Pakistan Forward, noting that religious extremism has no place in Islam.
"We want to send a clear message to society that the government is committed to dealing with terrorism in all its forms and manifestations," said Khan. "Nobody will be allowed to misuse religion."
A key move against terrorism
The CII's recommendations will prove instrumental for tackling terrorism, say analysts.
Militants have always used the name of Islam to their advantage in the past, Brig. (ret.) Mehmood Shah, a Peshawar-based senior security analyst, told Pakistan Forward.
"Taliban militants enjoyed respect initially as they claimed to be fighting the army to safeguard Islam, but they later exposed themselves by attacking schools, halting vaccinations and committing terrorist acts in marketplaces, killing innocents," he said. "The CII's role is vital to show the real faces of militants to the public."
The government must widely publicise that terrorism violates Sharia law, he added.
"The army has eliminated militants, but we need to isolate them and tell the public that there is no room for violence in Islam," Khadim Hussain, a Peshawar-based security analyst, told Pakistan Forward.
"Many terrorist outfits exposed the religion to notoriety with their claims that they were waging jihad," he said.