PESHAWAR -- Authorities have so far registered 60,000 illegally tagged vehicles in Malakand Division as part of a massive effort to register an estimated two million unlicensed vehicles in the division's seven districts, police say.
"This is a collective effort jointly carried out by the Pakistan Army, police and district governments," said Swat Senior Superintendent of Police (SSP) Khan Khel.
Malakand, a division in Khyber Pakhtunkhwa (KP), is governed under the Provincially Administered Tribal Areas (PATA) regulation that exempts tax and customs duties, which inadvertently opened the door for the influx of hundreds of thousands of vehicles smuggled from Afghanistan via the Federally Administered Tribal Areas (FATA).
Because these vehicles operate without being registered with the Excise and Taxation Department, they are known as "Non-Custom Paid" (NCP) vehicles and they have no official record of ownership that can be checked in case they are misused in criminal or terrorist activity, Khel told Pakistan Forward.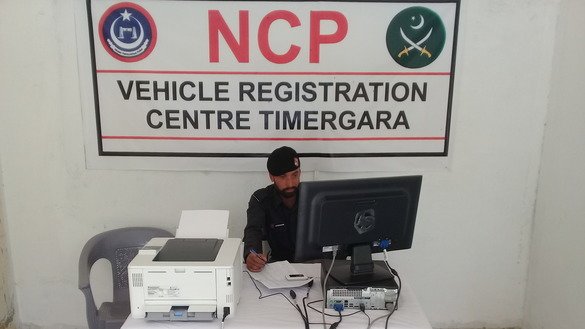 Tragedy prompts action
NCP vehicle registration began in January 2017, and was fully implemented by March 24, according to Khel.
The campaign was first proposed by former KP Inspector General of Police (IGP) Nasir Khan Durrani.
Durrani cautioned that "terrorists and criminals, including extortionists and kidnappers" misuse these unregistered vehicles in their activities, said Riaz Ahmad Yousafzai, spokesman for the KP Inspector General of Police.
"NCP vehicles used by militants were used in several terrorism activities particularly in Malakand Division," Durrani wrote in a letter to the KP government in October 2014, according to News Lens Pakistan.
Durrani is said to have written the letter after an unlicensed vehicle was used in a devastating terrorist attack.
The IGP felt the need to take action "after the involvement of an NCP car in a deadly bomb blast on September 29, 2013, at Qissa Khawni Bazaar in Peshawar city which claimed 42 lives," Express Tribune reporter Muhammad Riaz told Pakistan Forward.
During the investigation into the bombing, police were unable to obtain official records of the car used by the terrorists, he said.
The incident prompted the need to "establish of a proper database of smuggled cars for curbing use of these vehicles by terrorists and hardened criminals", Riaz said.
No tax penalty for registration
Anyone who goes through the registration process is not subject to any duties or taxes, SSP Khel said.
"Earlier people were confused in thinking they had to pay taxes or duties to register their vehicles, but the security forces in Malakand clarified that is not the case and the locals began co-operating fully," said former KP Finance Minister Muhammad Hamayun Khan, who is from Malakand.
"We fully realise the importance of foolproof security for ensuring lasting peace and therefore support this regularisation of such vehicles which have no track record and creates problems for law enforcers," he told Pakistan Forward.