PESHAWAR -- Khyber Pakhtunkhwa (KP) Police are constructing 31 security posts on the boundary with the Federally Administered Tribal Areas (FATA) as part of measures to secure Peshawar from militant attacks.
Work on some of these posts is in the final stage while others are to be completed soon, police officials say.
"These 31 well built security posts are being constructed on the boundaries with Khyber Agency, Mohmand Agency and Dara Adamkhel in a crescent shape to stop any kind of attack on Peshawar from these tribal areas," Senior Superintendent of Police (SSP) Operations Peshawar Sajjad Khan told Pakistan Forward.
The security posts are situated in a crescent shape from the south of Peshawar to the northwest of the city, he said, adding that it has been named the Crescent Security Plan.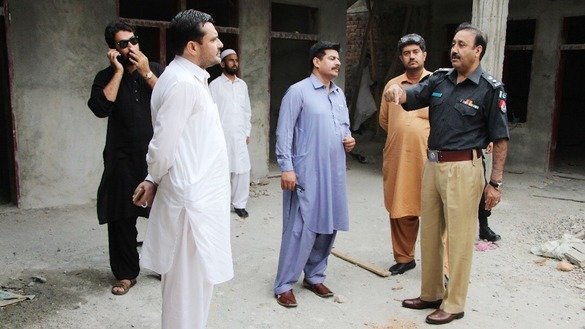 The checkpoints are being bombproofed to protect police and police stations from any kind of improvised explosive device (IED) or rocket attack, he said.
Seven security posts are being built within the limits of the Badhaber police station, five in Matani, and four each in Sarband and Nasir Bagh jurisdictions. Three are under construction in Mathra, two each in Pishtakhara, Daudzai and Urmar, and one each in the limits of the Bhanamari and Khazana police stations.
"All these posts have been divided in A, B and C categories, where 45, 35 and 25 policemen will be deployed, respectively," Khan said.
"Each post is spread over around two kanals (1011.71 square metres) of area so all the facilities can be provided to the policemen inside one building," he said, adding that construction of the facilities is going quickly and a few are expected to be completed in a couple of weeks.
The security posts will have offices for the in-charge officer, a conference room, residential barracks, washrooms, a kitchen and other required facilities, he said.
Enhancing security across KP
KP Inspector General of Police Salahuddin Khan Mehsud said the security posts are one of several measures taken to secure the province, especially major cities.
"All these posts on the boundaries with the tribal areas will ensure the security of the provincial capital and its people," he told Pakistan Forward.
"Under the Safe City Project, more than 6,000 closed circuit television (CCTV) cameras are being installed at over 850 points in Peshawar," he said.
"The newly constructed posts and ... CCTV cameras [in Peshawar] will help police better maintain law and order and ensure protection of life and property," Mehsud said.
Constructing fortified police buildings is another part of the KP Police's security plan, he said.
"A bombproof building ... is in the final stage in Matani Mera, an area where our men are stationed in a dilapidated house that has come under a number of attacks in recent years," Peshawar Superintendent of Police Shaukat Khan told reporters June 21 during a visit to one of security posts under construction.
The new buildings will protect the lives of many policemen as hundreds of them have been killed in militant attacks on security posts near the tribal area over the years, he said.
"Most of the attacks were carried out in the limits of Matani, Badhaber and Sarband areas in the past, claiming lives of not only junior policemen but even senior officers," he said.
Attacks on senior police officers
Peshawar-based journalist Qaisar Khan listed a number of incidents in recent years where senior police officials came under attack.
Kohat District Police Officer Dialwar Bangash was wounded and six men in his escort were killed in a suicide attack in Matani in May 2013.
In October 2012, Superintendent of Police (SP) Khurshid Khan and six other men were killed in an attack on a post in Matani, while another SP of the area, Kalam Khan, was killed in a suicide attack in May 2012.
In January 2011, Deputy SP Rashid Khan was killed by a suicide bomber in Peshawar.
Innumerable other attacks on police posts and police vehicles in Matani, Badhaber, Sarband and other areas close to the boundary with FATA have occurred since 2006, Qaisar Khan said.
"The bombproof buildings at the posts in Matani, Badhaber, Sarband, Mathra and Urmar will not only protect policemen from bomb and rocket attacks but will help stop terrorists from entering Peshawar via tribal areas," he told Pakistan Forward.
"The Project Co-ordination Unit of the KP Police, which is headed by a deputy inspector general of police, is looking after the construction of these police posts," Capital City Police Inspector Mumtaz Khan told Pakistan Forward.
About Rs. 800 million ($7.5 million) has been allocated for the project, he said, adding that construction is in the final stages on most security posts.
"These buildings will be manned soon," he said.