PESHAWAR -- Pakistan has beefed up security ahead of the holy month of Ramadan, expected to begin Friday night (May 26).
Khyber Pakhtunkhwa (KP) Police held a meeting at the central police station in Peshawar Monday (May 22) to review the overall security situation, particularly special measures taken ahead of Ramadan.
"All district police officers have been directed to upgrade security, increase patrolling and inspect sensitive places," KP Inspector General of Police (IGP) Salahuddin Khan Mehsud told Pakistan Forward.
Mehsud directed officers to improve their intelligence networks and go after gangs of terrorists and criminals.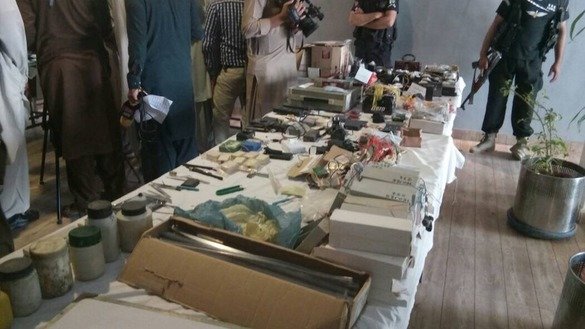 "Police have been directed to improve liaison with the public and address their complaints regarding the force," he said.
Widespread security crackdown
Operations against criminals and terrorists have been accelerated ahead of Ramadan to prevent any untoward incidents, said Capital City Police Officer for Peshawar Mohammad Tahir.
"I visited remote police posts in Matani, Urmar, Badhaber and other towns bordering tribal areas May 23 [Tuesday] to check the security in these areas," Tahir told Pakistan Forward.
"Police, acting on a tip on May 20, recovered a large quantity of explosives from a house in Urmar that was being used [to plan] terrorism in the city [of Peshawar] or other towns," he said.
The recovered explosives included 400kg of explosives along with a large number of detonators, hand grenades, rocket shells, wireless phones and detonator wires, he said.
"They had planned a co-ordinated terrorist attack," Tahir said, adding that police arrested one suspect and questioned him to reveal other members of his alleged ring.
All circle superintendents of police (SPs), deputy SPs and station house officers have orders to step up patrols ahead of iftar and during prayer times, he added.
Places to protect include "houses of worship, bazaars, markets and public places during the holy month", he said.
Security throughout the entire country has ramped up for Ramadan.
"About 12,000 policemen have been deployed to protect mosques and imambargahs during Ramadan in Lahore," Deputy IGP for Lahore Haider Ashraf said during a meeting of religious scholars May 16.
Police in Quetta, Karachi, Islamabad and other cities also have conferred on security for Ramadan. In major cities, they drew up traffic plans to minimise congestion during iftar and other times.