KARACHI -- After cracking down on Tehreek-e-Taliban Pakistan (TTP) and other banned militant outfits in Karachi, law enforcement agencies are dealing with a new challenge -- little-known militant outfits working in smaller cells.
One such group is Ansarul Shariah Pakistan (ASP), a militant organisation comprising about a dozen members said to be operating under the umbrella of Al-Nusra Front, an al-Qaeda-linked group based in Syria.
Pakistani Interior Minister Ahsan Iqbal said Wednesday (September 13) that the government will soon impose a ban on ASP.
"Efforts are under way to track down other members of the terrorist group," he said. "No group or party will be permitted to engage in provocative actions."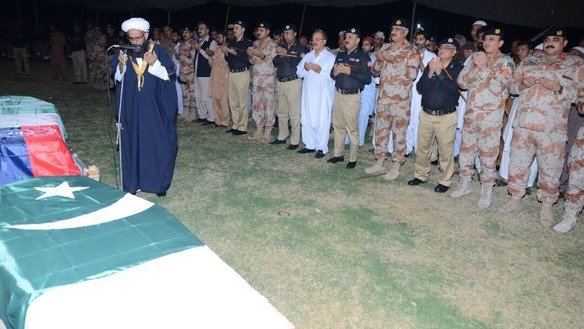 The exact date of the group's formation is unknown, but it came into the limelight in Karachi in April, when it claimed the slaying of Tahir Zia Nagri, a retired Pakistani army colonel, in Baloch Colony.
Investigations into slayings of police officers over the past five months revealed that ASP elements were behind several attacks.
On May 21, militants killed two policemen in a shootout near the Dhoraji neighbourhood. On June 23, armed men killed four policemen in the Sindh Industrial Trading Estate (SITE) area.
ASP was behind these attacks, according to a Karachi-based senior intelligence official who requested anonymity because he is not authorised to speak publicly about the incidents.
The group claimed responsibility for the attacks on police and the killing of Nagri in pamphlets left at the sites, he said.
ASP continued its subversive activities September 2, the first day of Eid ul Adha, with an attack on Muttahida Qaumi Movement (MQM) leader Khawaja Izharul Hassan in Karachi's Buffer Zone neighbourhood.
Hassan, opposition leader in the Sindh Assembly, escaped unhurt, but a police officer serving in his security detail and a 10-year-old boy were killed.
Security forces launch raid against ASP
The latest attack prompted police, Rangers and intelligence agencies to launch raids to dismantle the group.
In the early hours of September 5, police arrested accused ASP chief Abdullah Hashmi, who was a graduate of the University of Karachi's applied physics department and was working in the computer department of NED University of Engineering and Technology.
Law enforcement agencies in ongoing intelligence based operations have so far apprehended at least six suspected ASP members in various parts of Karachi, the senior intelligence official said.
"All of the arrested suspects were previously affiliated with various global and local proscribed terror groups, including the 'Islamic State of Iraq and Syria' (ISIS) and Lashkar-e-Jhangvi," he told Pakistan Forward.
ASP's members number only between 10 and 12 and law enforcement agencies soon will apprehend those still at large, he said.
New militant cells, same extremist ideology
Militant groups are playing a game of bluff to mislead law enforcement agencies by forming new cells, such as the ASP, security analysts say. The cells may be new and focused, but they all share the same extremist ideology.
"Some leaders abandon their groups to form their own outfits and develop direct links with the TTP and al-Qaeda," Muhammad Amir Rana, director of the Pak Institute for Peace Studies in Islamabad, told Pakistan Forward. "In other cases, new and very small operational cells are set up to carry out activities in a specific geographic location."
Naimat Khan, a Karachi-based journalist, finds some resemblance between the ASP and the ISIS-inspired youth network that carried out the May 2015 Safoora Goth bus shooting in Karachi.
Gunmen riding motorcycles stopped the bus and boarded it, killing 46 people, including 16 women, all of them members of the Ismaili Shia Muslim minority.
"Like the ISIS-inspired groups, the ASP recruits highly educated youth from prestigious universities" Khan told Pakistan Forward, adding that "Most of the militants in both organisations had no prior religious backgrounds."
Concerned about militancy among youth studying in universities, law enforcement agencies in Sindh Province have started working with university officials.
Vice-chancellors and representatives of the province's 40 universities met with Counter Terrorism Department (CTD) officials July 12 to discuss the potential spread of militancy on campuses and ways to counter it.
"Investigations of the arrested militants show that terror outfits are active in the country's leading universities," Omar Shahid Hamid, a senior CTD official, told Pakistan Forward in July.