LAHORE -- Anger was growing in Pakistan Tuesday (July 25) as the grief-stricken relatives of 26 people killed by a suicide bomber in Lahore a day earlier buried their loved ones and demanded the government publicly hang the masterminds of the attack.
The banned terrorist outfit Tehreek-e-Taliban Pakistan (TTP) claimed responsibility for the attack in a media message and said the suicide bomber came from Swat.
Families and residents in the bustling eastern city demanded action as they attended funeral prayers, and as the chief minister of Punjab province, Shahbaz Sharif -- brother of Prime Minister Mian Muhammad Nawaz Sharif -- visited survivors in hospital.
"We demand from the Government of Pakistan that those who are involved in this incident and those who are the facilitators should be hanged in public," Hafiz Naseer ul Din, uncle of a policeman killed in the blast, told AFP.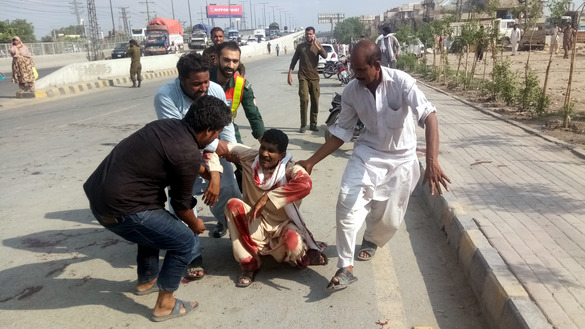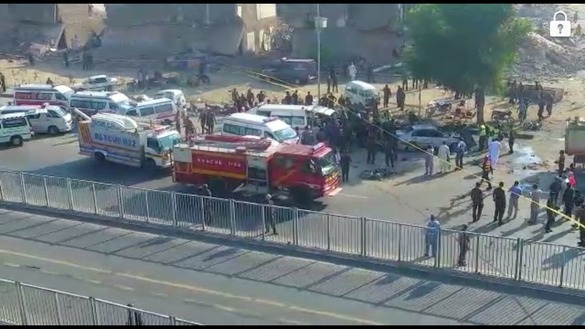 "We came here in great grief," added Shaikh Rizwan, a local resident who attended the funeral prayers for some of the victims.
"Twenty-six people were martyred here yesterday, I request my government that please uproot these terrorists fully so our country can progress," he said.
The powerful blast Monday hit a busy vegetable market on a bustling main road in the southern part of Lahore, blowing out the windows in nearby buildings.
"I was on a bridge when I heard a big bang," eyewitness Amjad told Pakistan Forward. "When i reached the spot, I found many people lying on the road."
"We took some of them to the hospital," he said of those he found alive.
Many of those killed in the attack were police who were clearing shopping stalls that had illegally encroached on Ferozpur Road, said a spokesman for the Punjab Police Counter Terrorism Department (CTD), adding that 54 people were hospitalised for injuries.
The bomber was between the ages of 16 and 18, and the suicide vest he used weighed about 12kg and was packed with ball bearings, said police.
The police officers were the apparent target, according to provincial Law Minister minister Rana Sanaullah.
"Three terrorists entered the ... market," according to the First Information Report filed with the Punjab CTD. "Two of them sent the third one towards the policemen."
Police are looking for those two facilitators.
Denunciations
Religious and political leadership condemned the attack.
Chief of Army Staff General Qamar Javed Bajwa expressed grief with the victims' families and ordered the army to conduct rescue and relief efforts, said Inter-Services Public Relations (ISPR).
Shahbaz Sharif termed the bombing a cowardly terrorist act, vowed not to rest until terrorism had been eradicated, and promised to avenge the sacrifice of the police.
Other leaders including President Mamnoon Hussain, Nawaz Sharif, former president Asif Ali Zardari, cleric Tahir-ul-Qadri and Jamiat Ulema-e-Islam (Fazl) chief Fazl-ur-Rehman all issued their own denunciations of the atrocity.
The Pakistan Tehreek-e-Insaf (PTI) party announced two days of mourning and postponed all its party activities.
Lahore has been hit by significant militant attacks in Pakistan's more than decade-long war on extremism, but they have been less frequent in recent years.
Recent attacks include a suicide bombing that targeted a census team in April, killing five, and another bombing that claimed 15 lives in February.
Another suicide bombing on Easter Sunday in March 2016 in Gulshan-e-Iqbal Park killed more than 70 people.
[Abdul Nasir Khan from Lahore contributed to this report.]