LAHORE -- Police in Punjab have issued a security alert throughout the province after a deadly terrorist attack near a religious gathering in a Lahore suburb Wednesday night (March 14).
A suicide bomber attempted to enter a gathering of the Tablighi Jamaat movement in Raiwand, Punjab Police Counter Terrorism Department spokesman Nayab Haider said Thursday.
The attacker self-detonated as police attempted to stop and search him at a checkpoint.
"So far, 10 innocent people have been martyred, including six police officers and four civilians," Haider said in a press statement. "More than 29 people, including 17 police officials, were injured, some of them critically."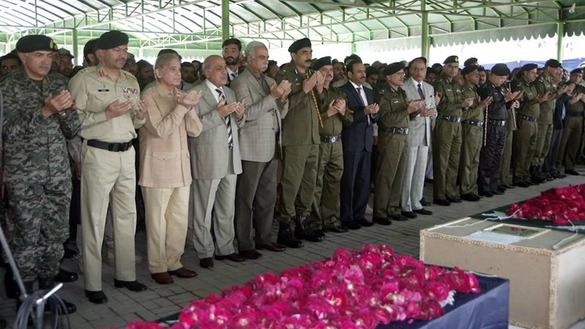 The mosque was hosting a religious congregation of about 60,000 people attending the annual five-day gathering, which began Wednesday.
The death toll could have been worse if the attacker had succeeded in entering the congregation, said Lahore Deputy Inspector General of Police Haider Ashraf.
Tehreek-e-Taliban Pakistan (TTP) claimed responsibility for the attack in a statement sent to AFP, saying it was in retaliation for the deaths of the group's "associates" in Punjab at the hands of police.
'A big bang'
"We were listening to speeches of the ulema when we heard a big bang outside the ijtema premises," Abdul Sattar, a participant of the congregation from Lahore, told Pakistan Forward.
"We rushed towards the explosion spot and saw that most of the policemen on duty to guard the gathering had been hit and were being taken to a nearby hospital," he said.
Punjab Inspector General of Police Capt. (ret.) Arif Nawaz ordered all regional and district police officers to tighten security in their respective areas, a spokesman for the Punjab police said Wednesday.
"Terrorists cannot break the resolve of the Pakistani nation by such cowardly acts. Terrorists will be brought to justice for this heinous and inhuman crime," Punjab Chief Minister Shahbaz Sharif said in a statement.
"Punjab police will keep making sacrifices to save lives," he said.