PESHAWAR -- Celebratory gunfire is a public safety hazard, Khyber Pakhtunkhwa (KP) Police say, and officials are cracking down with arrests and an awareness campaign to warn of the dangers.
At least 25 people were injured in celebratory gunfire in Peshawar and 8 others in Mardan after Pakistan won the International Cricket Council (ICC) Champions Trophy against India Sunday (June 18), the News International reported.
Jubilant fans fired thousands of rounds into the air despite a ban on such gunfire imposed by KP Police, according to the News.
Peshawar police reported making 66 arrests in connection with the dangerous and illegal shooting.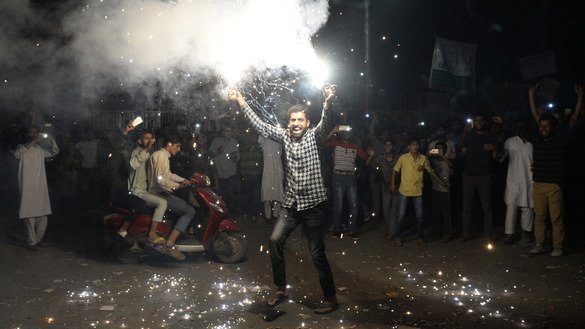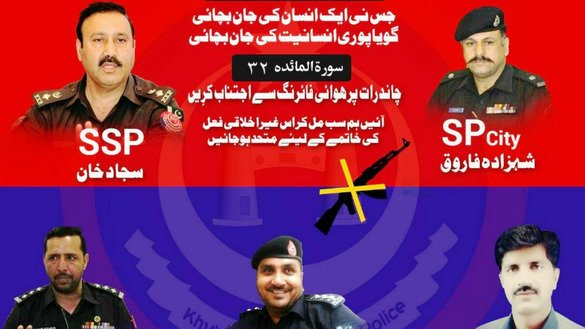 Spreading awareness
Aerial firing has been a common practice for years in Pakistan during Eid and New Year's Eve and at wedding ceremonies, but it is dangerous, Senior Superintendent of Police (SSP) for Operations in Peshawar Sajjad Khan told Pakistan Forward.
"The authorities in KP have launched an effective campaign against aerial firing in the province by educating the public about the effects of this social evil," he said.
Senior police officers in Peshawar have orders to visit major Peshawar mosques during Friday prayers to spread awareness, said Sajjad.
"They address the worshippers after the sermons by the imams," he explained."[The listeners] hear about the losses suffered by the innocent due to this evil practice."
Besides visiting mosques, KP Police also launched an awareness campaign that includes displaying banners in various public places and posters on vehicles, meeting with community elders and making announcements from local radio stations, said Sajjad.
"Our aim is to educate the citizens and save the precious lives of innocents," he said, adding that assistance from the community is essential.
Repercussions of aerial firing
Police officers warn the public about the repercussions of violating the law, Sajjad said, adding that they urge elders and community leaders to ensure there is no aerial firing in their localities.
Last year, three Pakistanis were killed and 48 injured in various incidents of aerial firing across KP and the Federally Administered Tribal Areas (FATA) during Eid ul Fitr, according to authorities.
Peshawar resident and security guard Anwar Khan, 56, was one of those injured.
A stray bullet hit him in the shoulder while he was praying in the yard of a mosque.
"I spent Rs. 6,000 ($57) for my treatment, while I earn Rs. 8,000 ($76) a month," he told Pakistan Forward. "It was very hard for me to manage my expenses afterward."
Support from imams, residents
"It is a good step from the government to use religious centres for educating the public and saving innocent lives," Qari Khalid ur Rahman, an imam at Masjid Zubair in Pishtakhara, told Pakistan Forward.
Stray bullets have caused many deaths and cases of paralysis, he said.
"Innocent lives are lost during different celebrations, which turn them into mourning," he said, adding that Islam forbids killing the innocent.
If that prohibition is not reason enough to stop, he said, aerial firing is a waste of money. Islam bans squandering funds on unnecessary activities.
Ishfaq Khan, a resident of Chamkani, expressed concern over the high rate of aerial firing.
"Thousands of bullets are fired into the sky during Eid, weddings and any big win by the Pakistani cricket teams," he told Pakistan Forward.
He praised the KP Police's anti-aerial firing awareness campaign and expressed hope for better results.
Police preparing for Eid ul Fitr
The public education campaign is at full throttle during the run-up to Eid, Chamkani Station House Officer and Sub Inspector Humayun Khan told Pakistan Forward.
"Peshawar police have already launched an awareness campaign," he said.
Officers appeal to residents to stop the practice with messages like "Aerial firing is banned" and "Let's strive together to root out this unethical practice from our society", Humayun said.
Last Friday he said he spoke with worshippers gathered at the local mosque for prayer and persuaded them to bring to an end to aerial firing.
"The friendly attitude [we met] indicates our success, and we will witness a great decrease in aerial firing this Eid," he predicted.
In case of any violation, police are ready to respond.
"We have very clear orders from our higher-ups regarding aerial firing," Humayun said. "We will take strict legal action against offenders."
Similar campaigns have taken place in Mardan, Kohat, Swabi, Nowshera and other districts, he said.
"We've issued clear instructions to all the subdivisions and police station chiefs that we will tolerate no negligence in this regard," said Sajjad the SSP.