NOWSHERA -- As Pakistan erupted in ecstasy over a breathtaking cricket win against India this summer, five-year-old Noeen lay dying in a Peshawar hospital, the tiny victim of an often deadly tradition: celebratory gunfire.
Unloading a few rounds into the air is a well-established custom to celebrate weddings, religious ceremonies and sporting victories in Pakistan, where firearms stuff black markets along the Afghan border and gun crime is rife in major cities.
Following Pakistan's trouncing of arch-rival India during the Champions Trophy in June at least two people were killed and hundreds wounded in the ensuing nationwide celebrations as cricket fans fired gunshots into the air.
In Nowshera, Khyber Pakhtunkhwa (KP), Laeeq Shah was with his son in a park as the festivities kicked off when a stray bullet struck the five-year-old in the head.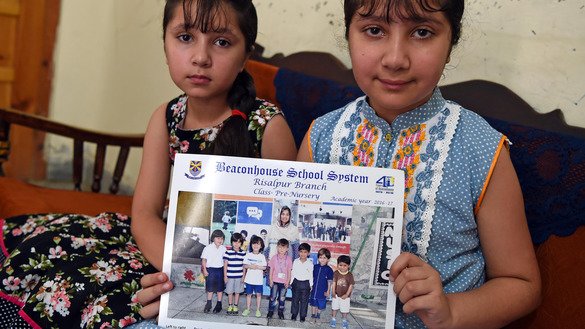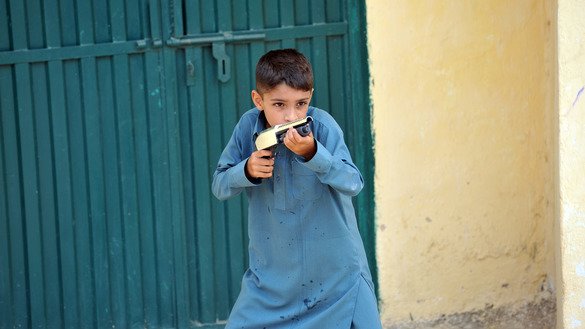 The boy was rushed to a hospital in Peshawar, where he battled for close to 60 hours in a coma before succumbing to his wounds.
"One can ruin the house of another unknowingly," said Shah.
Deeply rooted gun culture
In the tribal northwest, Pakistan's obsession with guns is particularly visible, with firearms cheaper than smartphones and most men travelling armed. Weapons are so ubiquitous they are almost seen as jewellery.
Pakistan's deeply rooted gun culture was exacerbated further in the 1980s after the Soviet invasion of Afghanistan, and the deluge of arms into the region gave rise to what was later labelled "Kalashnikov culture".
Kalashnikovs and military-grade weapons soon replaced the bolt-action and flintlock rifles of old at social functions, with revelers spraying bursts of automatic fire into the air to celebrate weddings and sporting victories.
But the time-honoured tradition has come at a fatal price.
Deadly tradition
While there is no official number for the deaths caused by stray bullets, authorities say hundreds have likely been killed over the years.
After his son's death, Shah decided to act. He canvassed mosques and called on religious leaders to instruct their communities at Friday prayers to abandon the tradition.
"In the past, people used to celebrate with aerial firing because we had open fields," Shah told AFP.
"Now every bullet fired in the air will hit someone, and no one is certain it will land in an open place."
Local authorities have also taken up the mantle, with police in Nowshera and other districts distributing pamphlets and posters along with pushing community engagement initiatives to combat the scourge.
"We cannot control this curse without public support," Senior Superintendent of Police (SSP) for Operations in Peshawar Sajjad Khan told AFP.
Capital City Police Officer for Peshawar Mohammad Tahir called on would-be revelers to consider donating the money they would spend on ammunition to charity rather than firing volleys into the sky.
"It costs Rs. 60 to 70 ($0.67) for one round; we can spend this money on the poor," he said.
Gun laws slow to change
In Pakistan a license is required to possess a gun, while special permits are needed to carry large calibre weapons and automatic rifles.
Those caught firing guns into the air face fines of up to Rs. 1,000 ($9.49) for the offence, according to the mayor of Peshawar's Nothia Qadeem neighbourhood, Safdar Khan Baghi -- but the rule remains loosely enforced.
To crack down on the dangerous practice, KP Police are proposing stricter laws and punishments for those involved in aerial firing, SSP of Investigations for Peshawar Nisar Ahmad Khan told Pakistan Forward.
"We have collected the data on about 2,200 cases of aerial firing during the last four years to submit details [on the cases] along with proposing strict laws to the government," he said.
"The KP Police will recommend to the government to increase the punishment and fine for aerial firing to discourage the practice," Khan said.
In June, KP Inspector General of Police Salahuddin Khan Mehsud directed police to launch an extensive campaign across the province to stop the practice of celebratory firing.
District police officers (DPOs) were directed to visit public places, mosques, hujras and offices of nazims to address the public and discourage aerial firing.
"The practice has seen a significant decrease after campaigns by the police as well as strict actions all over the district," Mardan DPO Mian Saeed Ahmad told Pakistan Forward, adding that Mardan police arrested and charged 49 people for aerial firing on June 19 after Pakistan's cricket victory.
Cracking down on toy guns
In an effort to combat the spread of the country's gun culture, provincial authorities across Pakistan have passed a raft of measures over the years banning the sale of toys resembling weapons to children.
However, a recent visit to Peshawar found the city's largest bazaar full of toy replicas resembling pistols and Kalashnikovs.
"The government has banned the selling of toy guns; it says it distorts the minds of kids, so better to give them pens or any other toys," said shopkeeper Sharif Khan.
"But children have no other alternative; nothing else is available to play with."
Lives ruined
The effects of aerial firing are long lasting for the victims and their families.
"I was a child when I was hit by a stray bullet ... outside my house in 1984," Safir Ullah, a resident of a Peshawar suburb, told Pakistan Forward.
Safir, now 42, was long bedridden and received many years of treatment. Now he can walk slowly with support.
"It is always painful when you can't run or play any game or do anything without any support," he said, adding that it is more painful when he thinks of the culprit because "he will never even know how it ruined someone's life".
In the Shah household, the damage has been done.
Following their son's death, Shah said the family removed all of Noeen's belongings -- shoes, school bags and clothes -- from their home.
It was just too painful to be reminded of the loss.
Shah says his wife still suffers from post-traumatic stress, while his daughter struggles to understand why guns are necessary for celebrations.
"Why do people celebrate with aerial firing?" asks Noeen's sister Warisha.
"If you are happy, then just say thanks to Allah."
[Javed Khan in Peshawar contributed to this report.]