KUNAR -- News of horrors being committed by Taliban militants across Afghanistan are coming to light as they continue capture more territory.
The increasing violence, particularly in Afghanistan's cities, has displaced more than 359,000 Afghans this year alone, the United Nations International Organisation for Migration (IOM) said Tuesday (August 10).
Thousands of families have been forced to abandon their homes and flee for safety after the Taliban seized Narai and Ghaziabad districts in Kunar province in late July.
While capturing the districts, the Taliban cut off residents' access to running water, blocked the Asadabad-Narai road with boulders and took over civilians' houses to use them as bunkers, residents told Salaam Times.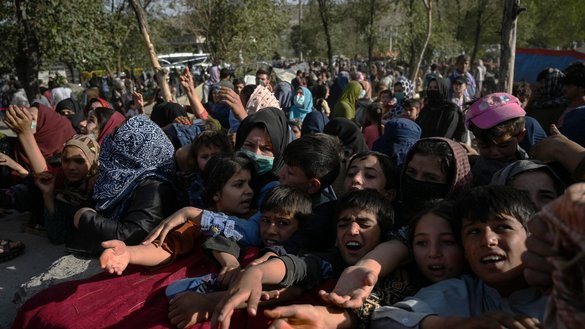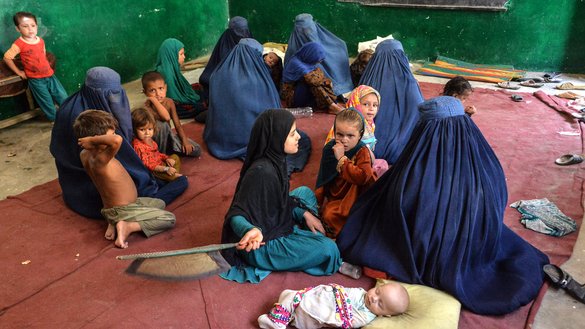 Some residents departed for the provincial capital Asadabad, while others fled to Nangarhar province.
Mohammad Akbar Khan, 50, a resident of Markazi village in Narai district, fled to Narang district along with six members of his family to escape fighting.
"When the Taliban came, terror and killing came with them," he said. "All of us were scared and thought they would kill us tomorrow -- if not today -- as we are pro-government and a lot of our people work for the government, including myself."
"We left in the evening, spent one night in Asmar, and then started moving again to reach safety," he said.
"The government has started helping us, giving us food, water and kitchen equipment," Khan said.
Niaz Bibi, a widow and mother of three, fled her home in Ghaziabad district to shelter in the Kotkay area of Narang district.
"Fighting intensified there, and we realised that the Taliban would not let us live in peace, so we left, and now the people and the government are helping us," she said.
Tales of Taliban brutality
Those who have fled the frontlines have brought tales of horror wrought by the hardline Islamist group, detailing reprisals against former government workers, summary executions, beheadings and kidnappings of girls for forced marriages.
"We saw bodies lying near the prison... there were dogs next to them," said Friba, 36, a widow who fled Kunduz Sunday with her six children as the Taliban took over.
Like many who spoke to AFP, she asked not to be fully identified for fear of reprisal.
Another evacuee from Kunduz, Abdulmanan, told AFP the Taliban beheaded his son.
"They took him... as if he was a sheep and cut off his head with a knife and threw it away," he said.
Shops in Kunduz's markets were left blackened and burnt out by the fighting between Afghan forces and the Taliban.
"The Taliban are hiding in people's houses in the area, and government forces are bombing them," said Haseeb, a Kunduz resident who lives near the airport.
Residents report similar horrors in other areas under Taliban control.
"The Taliban are beating and looting," said Rahima, who was camped out with hundreds of families at a park in Kabul after fleeing Sheberghan province.
"They forcibly take young girls or young widows from families," she said. "We fled to protect our honour."
'No one feels safe'
Around 9,000 families have been displaced from Narai and Ghaziabad districts as of August 5, said Abdul Rashid Safi, director of Kunar's Refugees and Repatriations Department.
"We have provided essential food and non-food items to 3,000 families in Kunar, and aid efforts are ongoing," he said.
"With the help of various international organisations, we are distributing tents, mattresses, kitchen kits and food for three months among families who do not have shelter," Safi said.
Displaced families from Narai and Ghaziabad districts have been resettled and the government will take immediate steps to recapture the two districts so that residents can return to their homes and schools and governmental organisations can resume their operations, said Kunar Governor Mohammad Iqbal Saeed.
Mohammad Rauf Khaksar fled to Asmar district, Kunar province, but said his father refuses to leave their home in Narai district.
"He says our house will be looted if he leaves," he said. "My parents are staying so that no one loots our house."
"Life has deteriorated with the arrival of the Taliban, and no one feels safe," Khaksar said.
"We want the government to take over soon so that we can return to our homes."
Interrupted dreams
Sadia, 11, a resident of Narai district, fled to Kunar's provincial capital, Asadabad, with her mother, two brothers and a sister.
"I was a student at the Narai girls' school," she said. "Only a few days were left until the end of the school year. I was happy to take the final exams and go to fifth grade."
"But the fighting started, and we left on foot since there were no cars," she said.
"I want peace to return to my village and school," she added.
Gul Alam, a sixth-grader and a resident of the Jalala area of Ghaziabad district, said the Taliban have turned his school into their base.
He fears his school will be destroyed. "I don't want to be illiterate," he said.