Foreign fighters are still making their way to Iraq and Syria to fight in the ranks of the "Islamic State of Iraq and Syria" (ISIS) but in far fewer numbers, and with a much greater chance of being apprehended, officials said.
The decline in arrivals in Iraq is a direct result of ISIS's collapse following a heavy Iraqi and international coalition offensive, and is a sign of the success of the strategy to target the group's sources of funding, Iraqi officials said.
Coalition forces continue to hammer the remnants of ISIS in Iraq and Syria, US Central Command said in a statement Tuesday (November 6), adding that the coalition "conducted 28 strikes consisting of 44 engagements against ISIS targets" in Syria November 3. The strikes destroyed three headquarters buildings and other ISIS property and equipment.
Foreign fighters continue to flow into Syria to join ISIS but at a much lower rate, US Chairman of the Joint Chiefs of Staff Gen. Joseph Dunford said in October.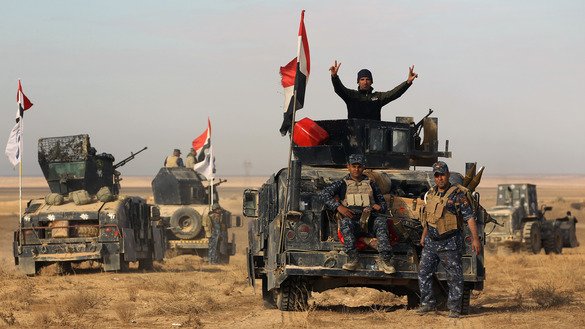 New followers arrive at a rate of about 100 a month, he said, down from a peak of about 1,500 a month three years ago.
Even though the numbers of new arrivals have dwindled, Dunford stressed the need to sustain efforts to extinguish the attraction of the ISIS ideology and to "identify, prosecute, de-radicalise and reintegrate foreign fighters".
"The group that claimed it could not be defeated is now defeated," Iraqi Ministry of Defence spokesman Maj. Gen. Tahseen al-Khafaji told Diyaruna. ISIS elements "are now under massive pressure from our forces, who are hunting them down and targeting them with focused security operations".
Enhanced border security
Iraqi forces have been engaged in a "heroic" effort to control the border and prevent ISIS infiltration, al-Khafaji said.
"The diminishing number of terrorists entering Iraq is due to this massive security effort to protect the border and quell the numbers of infiltrators," he said.
Iraqi forces have been exchanging intelligence with the international coalition, including information on ISIS hideouts and movements, he said, and the coalition has helped with emergency intervention to prevent infiltrations.
These are all key factors in curbing the flow of foreign fighters into Iraq, he said.
"Iraq is seeking to bolster its intelligence capabilities to reinforce collaboration among all relevant security agencies, so as to completely eradicate terrorist presence within its borders," al-Khafaji said.
Security operations in Anbar, Ninawa and Diyala provinces in this month alone have led to the killing or arrest of hundreds of ISIS elements, he said, with about 100 ISIS rest-houses and tunnels and 100 vehicles destroyed.
Numbers are in decline
More than 20,000 foreign fighters joined ISIS in Iraq and Syria between 2015 and 2016, strategic and political affairs researcher Amir al-Saidi told Diyaruna.
According to current estimates, however, there are no more than 1,500 local and foreign ISIS fighters in Iraq at present, he said, and fewer than 5,000 in Syria.
"This is a significant achievement, as a result of the liberation battles that all our forces have engaged in against ISIS and the military support provided by the international coalition," al-Saidi said.
The group has been weakened by the targeting of its sources of funding and the close monitoring of its elements, he added.
"The heaviest loss inflicted on ISIS is that of global support," security analyst Jassim Hanoun told Diyaruna.
"After the horrendous crimes it has committed against civilians and its duplicitous claims, people, especially youth, are repulsed by the group," he said.
Just a few years ago, large numbers of volunteers and recruits flocked to join ISIS from more than 100 Arab, European and Asian countries, Hanoun said.
"Today, recruitment is declining, and with that, the number of terrorists flocking to the group," he said. "We are seeing a reverse migration of terrorist elements out of Iraq and Syria towards their countries of origin."
"ISIS elements are disappointed and fragmented, and their end is near," he said.