QUETTA -- Iran's cutoff of electricity to Balochistan's coastal areas is inflaming public anger and badly damaging the business sector, observers say.
Iran usually supplies 80MW of electricity to these areas as part of a deal for up to 100MW.
"Iran has been providing 80MW of electricity daily to the coastal areas of Balochistan, but unofficially it has been disconnected for the past one and a half months without any reason," a senior official at Pakistan's National Transmission & Dispatch Co. in Islamabad told Pakistan Forward on the condition of anonymity.
"We are very concerned about the cutoff of Iranian electricity to our coastal areas, which violates the contract between the two countries," he said.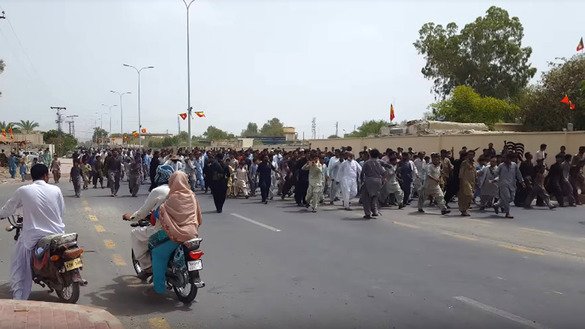 Iran's claim of a power shortage on its own side of the border is unfounded, he said.
"Iran has the ability to generate up to 70,000MW of power in the country and every year it adds an additional 5,000MW on its main system," he said. In addition to Pakistan, "Iran also exports electricity to Turkey, Iraq, Afghanistan, Azerbaijan and Turkmenistan."
"There may be some other reason for the suspension of power supply to our coastal belt as Iran's power generation is much greater than the country's needs," the official said.
"Iran must explain the power suspension in diplomatic and other relevant channels," he said.
Breach of contract
Iran signed a contract with Pakistan in September 2003 to provide electricity to Balochistan's coastal areas, said Muhammad Ilyas, a senior official with the Quetta Electric Supply Company.
"Initially it was providing 35MW daily, but later ... the capacity of electricity was increased ... to 100MW," he told Pakistan Forward.
"We have taken up this issue with the relevant Iranian officials [to find] a permanent solution, but they haven't taken any appropriate step yet," he said. "The power breakdown is a serious issue, and we expect Iran to resolve it soon."
Pakistani officials have raised the issue with the Iranian consul general in Quetta, he said, adding that "further efforts are under way" to resolve the shortage.
"The non-transmission of Iranian electricity to Balochistan's coastal belt -- including in Gwadar, Pasni, Ormara, Panjgur and other areas -- is badly affecting domestic [usage] and the business sector in our region," Wahid Baloch, a political leader in Panjgur District, told Pakistan Forward.
"We have raised our concerns several times with the pertinent officials ... but they are not taking any serious action," he said.
Iran's irresponsible behaviour and violation of the contract it signed with Pakistan are fueling public outrage toward Iran in Balochistan's affected areas, Baloch said.
"It is the prime responsibility of our state to either facilitate our masses with our own resources or ask Iran [to explain] its gross violation of the contract," he said.
"In every area in our 760km-long coastal belt in Balochistan, [residents] are protesting the [shortage] of electricity, which is also causing a severe shortage of clean water," he said.
Pakistanis suffer
"The unavailability of electricity has halted our business activity, and the traders of Gwadar and other areas of Makran Division have been protesting for the past 18 days," Shoukat Baloch, a leader of the Anjuman-e-Tajran trade association, told Pakistan Forward August 5.
"Because of Iranian power cuts, sales have dropped by 80% and our community is facing a severe financial crisis," he said.
"We urge the Balochistan government to take immediate action for the restoration of Iranian electricity," Baloch said.
"We demand the government act appropriately for the relief of our masses, because without electricity in this sizzling hot weather, our people are suffering," said Muhammad Nabi, a social worker based in Pasni, Gwadar District.
"The power shortage is emerging as one of the key issues in Balochistan's Makran belt, where most residents depend on Iranian electricity," he told Pakistan Forward.
"The public is suffering greatly from the lack of power, and for the past three weeks members of all schools of thought have been protesting in Panjgur, Turbat, Pasni and other areas," he said.
Iran's double game
"Iran has always played a double game; therefore, we can't believe its claim that the Iranian power supply to our coastal areas was disconnected because of a power shortage [in Iran]," Nabi said, adding that Iran has done the same to other areas adjacent to its border where it supplies power.
"In Sistan and Baluchistan Province, Iran, the residents are protesting for their rights and a freedom movement is going on there," Nabi said.
"Many inhabitants of our coastal belt have close ties to and relatives among the population on the other side of the border," he said. "Iran is trying to suppress those people for strategic gains."
"The power crisis in the coastal belt is artificial," Shantul Girganari, a Taftan-based security analyst, told Pakistan Forward.
Whenever the Iranian regime oppresses the Sunni population in Sistan and Baluchistan Province in Iran, the residents of Balochistan's coastal areas rise up and protest, he said.
This support has sparked fear in Iran, he said, and with the power cuts the regime is trying to send a message.
Iran has made "several such attempts" to coerce Balochistan with cutoffs of power in the past two years, he added.