KABUL -- Pakistani Prime Minister Shahid Khaqan Abbasi's latest visit to Afghanistan is being hailed as a step toward improving the countries' relations and strengthening their co-operation.
Abbasi met with Afghan President Ashraf Ghani Friday (April 6) at the Presidential Palace in Kabul.
They discussed a number of issues including regional co-operation, the fight against terrorism, co-operation for peace and stability and the dignified return of Afghan refugees from Pakistan, according to a statement from Afghan presidential spokesman Shah Hussain Murtazawi.
"[Abbasi] and his accompanying delegation welcomed the peace initiative proposed by the Afghan government, saying that they will support the Afghan government in this endeavour," he said, referring to a plan for peace with the Taliban unveiled by Ghani on February 28.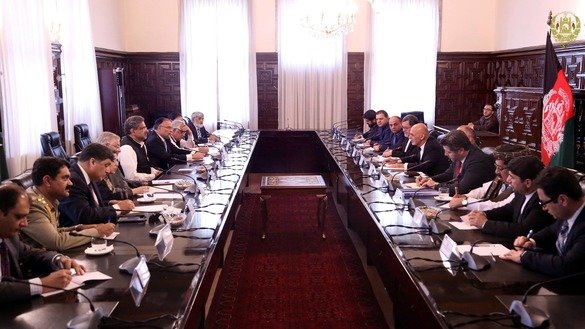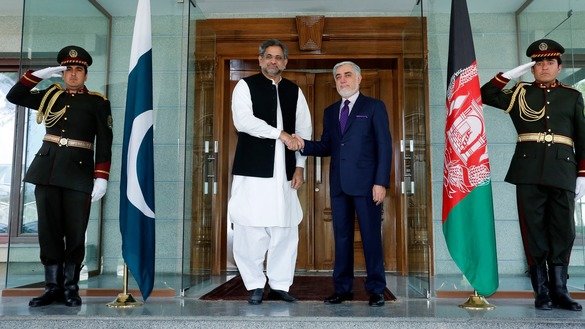 "The geographic location of Afghanistan is of immense importance for Pakistan, and Pakistan understands this gravely important matter," Murtazawi said. "For instance, Afghanistan helps Pakistan import energy from Central Asian countries. Moreover, Pakistan can easily export goods to Central Asian countries via Afghanistan."
"Another good example of the two countries' co-operation is the TAPI project," he said, referring to the Turkmenistan-Afghanistan-Pakistan-India natural gas pipeline.
The last time Abbasi was in Afghanistan, Iran ordered a group of Taliban militants to attack the inauguration ceremony in Herat Province for construction of the TAPI pipeline. The militants surrendered to local authorities before carrying out the plot against the regional energy project.
Fighting extremism, terrorism together
"The Pakistani prime minister's visit to Kabul takes place amid unprecedented international support for the Afghan people and government," Naseer Ahmad Taraki, a Kabul-based political analyst, told Salaam Times.
Pakistan especially has "recognised the integrity of the Afghan government, as well as the threat of terrorism", he said.
"Therefore, first and foremost, this visit will result in better relations between Afghanistan and Pakistan," he said. "Furthermore, the visit will strengthen the two countries' collaboration in fighting against extremism and terrorism."
"Over the past year, dialogue and diplomacy have been in the interest of Afghanistan," Taraki said. "Among prominent examples of such dialogue and diplomacy were the Kabul Process Conference and the Tashkent Peace Summit, in which all participating countries ... announced their support for the Afghan government's peace initiative."
"Pakistan can play a key role in fighting against terrorist groups and in bringing peace and stability to the region, especially in Afghanistan, provided that [Pakistani] officials earnestly enter dialogue with Afghanistan," said Helay Irshad, a Kuchi minority representative in the Wolesi Jirga (lower chamber of Afghanistan's parliament).
"If such discussions are held in goodwill, then in the short term we will witness a decline in violence, while the long term effect will be the failure of terrorist groups in Afghanistan," she told Salaam Times.
"The existence of good Afghan-Pakistani relations and co-operation will provide an effective platform to fight against terrorist groups and will bring about peace and reconciliation to both countries," Irshad said.
Building trust among neighbours
Pakistani politicians and analysts are also hopeful Abbasi's visit is a sign of warming relations with Afghanistan.
"The visit is extremely important for reducing the prevalent mistrust between Kabul and Islamabad, as co-operation between the two will prove detrimental for the terrorists," Awami National Party leader Mian Iftikhar Hussain told Salaam Times.
"It is impossible to eradicate terrorism from the region without close collaboration between Pakistan and Afghanistan," he said. "Both countries are the most affected by acts of terrorism, and the only tangible solution is to create a bond of unity between them."
Abbasi's visit will repair strained relations between Pakistan and Afghanistan, predicted Khadim Hussain, a Peshawar-based security analyst.
"Militants have been the prime beneficiaries of the tense relations between the two countries, and both need to cement their ties to defeat terrorism," he told Salaam Times.
"[Leaders of Pakistan and Afghanistan] should devise a mechanism to take full-scale action against those disrupting peace on both sides of the border," he said.
Afghanistan, Pakistan stronger together
Abbasi's trip can be a turning point in reducing mistrust and repairing relations with Afghanistan, said Rasool Shah, a political scientist at Abdul Wali Khan University in Mardan.
"Strengthening relations with Afghanistan is the only way to win the war against terrorism and pave the way for durable peace in the region," he told Salaam Times.
"We need to consolidate political, economic, security and counter-terrorism co-operation with Afghanistan to do away with terrorism," he said.
A breakthrough in talks between Pakistan and Afghanistan would weaken terrorist groups, said Brig. (ret.) Mehmood Shah, a Peshawar-based security analyst and former security secretary for the Federally Administered Tribal Areas.
"Cross-border movement of terrorists is big threat to peace efforts, which requires a co-ordinated approach on both sides of the long frontier," he told Salaam Times.