PESHAWAR -- Khyber Pakhtunkhwa's (KP) Directorate of Culture has launched an online club to hone the skills of local writers, provide a platform for expression and promote the rich literary heritage of the province.
The Peshawar Writers Club was inaugurated on November 30, 2017. In order to join, prospective members must have published at least one book or research paper and live in KP.
Developing a 'writing industry'
One of the goals of the club is to create employment opportunities for members and provide training to improve their skills.
The plan is to have professional writers from the province register with the club to create a network of freelance contributors, and then direct their work towards results and effective utilisation, said Akbar Khan Hoti, a languages and literature specialist at the KP Directorate of Culture.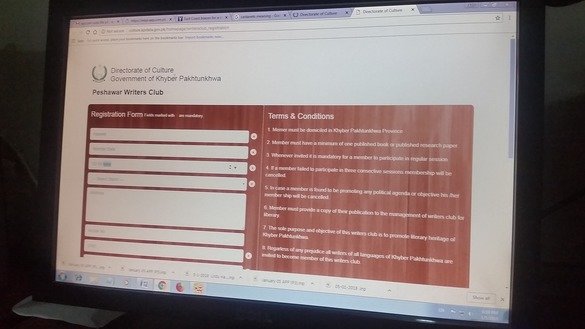 "Channelling the skills of our writers and literati in a systematic way and giving [them] chances to improve their skills by mutual-comparison is a new phenomenon that would definitely produce positive impacts on the development of contributors," he told Pakistan Forward in January.
Objectives of the club include organising capacity building events for new writers, inviting intellectuals to familiarise themselves with professional writers and arranging literary debates. The club will also provide reading and writing facilities to registered members, Hoti said.
The club will help generate employment opportunities for writers by providing contemporary training on copywriting, copyediting, proofreading, writing editorials, screenwriting, synopsis writing services, manuscript polishing, indexing and other related skills, he said.
After becoming part of a trained freelance writing workforce, KP writers will be able to offer their services to private organisations, the business community and the corporate sector in Pakistan, as well as potential clientele outside of the country.
"We want to develop a 'writing industry' in the province by promoting literati under the umbrella of the club... [the] first of its kind in Pakistan," Hoti said.
So far 58 writers have already registered, including prominent literary figures such as Saadullah Jan Barq, Khaliqdad Umeed, Abaseen Yousafzai, Abdul Latif Seemab, Muhammad Ali Dina Khel and Zubair Toorwali.
The contributions of these well-known writers will be part of the club's online archives and will become a source inspiration for younger generations and newcomers, Hoti said.
Promoting cultural heritage
"Furnishing regional writers with ways to express their skills through an online channel will promote the rich and diverse indigenous cultural heritage of our province that has derived its roots from centuries-old traditions and values," Arshad Hussain, an actor who previously worked for the directorate as a consultant, told Pakistan Forward.
The Peshawar Writers Club also will open new opportunities for employment and development to members by increasing their visability, he said.
In addition, through the club, it will be possible to prepare a cultural map of KP by compiling and recording literary works written in regional languages, Hussain said, adding that many of these works remain unexplored for many reasons, including the lack of a proper avenue of expression.
"The club will also highlight regional prose and poems that can transpire and disseminate the peace-loving nature of our people and a soft image of our land throughout the world," he said.
There are about 28 languages spoken by people in KP and giving authors of these languages a chance for increased exposure through the online club will create opportunities for growth and development, he said.
Online publication will also help publishers connect with these regional writers.
The utility of the club would increase if the contributions of these writers are translated into languages that are widely spoken in Pakistan, Hussain said. This would increase readership, visibility and also potentially generate financial benefits for such writers.
"The online club will bring the work of regional writers to the limelight, and give interested scholars a base for conducting research work on regional languages and their associated cultures," said Dr. Sher Ali Khan, chairman of the Art and Design Department University of Peshawar and a writer registered in the Peshawar's Writers Club.
"This will also encourage regional writers to come forward and play their role in promoting and preserving the rich and diverse literary heritage of the province," he told Pakistan Forward.