QUETTA -- More than 300 militants of various proscribed groups have surrendered their arms to authorities in a ceremony in Quetta, Pakistani officials announced Saturday (December 9).
Balochistan Provincial Chief Minister Nawab Sanaullah Khan Zehri, Pakistani Southern Military Command chief Lt. Gen. Asim Saleem Bajwa and other officials were present at the ceremony.
The 313 former militants denounced violence and vowed to join the mainstream political system.
"Seventeen top commanders who have been leading anti-peace activities for the past several years in Balochistan were among those who entered the mainstream system," Anwarul Haq Kakar, spokesman for the Balochistan provincial government, told Pakistan Forward.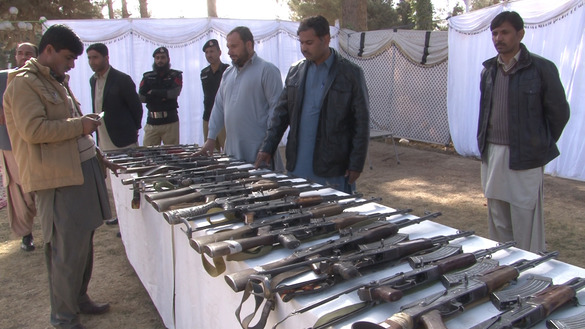 "The surrendering militants belonged to banned outfits including the Balochistan Liberation Army (BLA), Baloch Liberation Front (BLF) and Baloch Republican Army (BRA)," he said.
The provincial government will provide all the required assistance for those ex-insurgents' rehabilitation, including financial assistance totaling Rs. 29.7 million ($281,000), according to Kakar. Under the Peaceful Balochistan Package initiative, the provincial government is paying Rs. 300,000 ($2,793) to militants and Rs. 500,000 ($4,655) to top commanders, on top of free education and health services to militants and their families.
"We are glad that militants in Balochistan are now rejecting terrorism in the province," said Kakar. "The self-realisation of militants reflects the success of state efforts for the lasting peace process."
As many as 2,000 armed militants, including dozens of their key commanders, surrendered in various parts of the province between February 2016 and December 2017, Kakar said.
No compromise for national security
"We are in a state of war, and the enemy is taking all steps to sabotage peace and drive the state into division," Zehri said during the ceremony.
"Terrorists are misusing our youth for anti-Pakistan activities, and those playing in the hands of these anti-peace elements are now recognising their exploitation in war," he said.
"Those [who] surrendered today also convey my message to the militants still involved in terrorism, that 'you will never win in challenging the writ of the state,'" Zehri said.
"Militants have no option besides laying down their weapons, and we will never compromise our national security," he said. "It is the right time for militants to consider the reality of this war waged against us for the greater strategic interests of our enemy."
'We were kept in darkness'
Fazal Mohammad, alias Chinaa, a former senior BRA commander, said he was "extensively involved in massive anti-state and anti-peace activities in Naseerabad [District] of Balochistan" for the past 11 years.
"We were kept in darkness during our war with the state," he told Pakistan Forward.
"My decision to surrender is purely based on the reality that I witnessed during our fight for the rights of our ... nation," he said. "The leaders of BRA are largely involved in killing the innocent."
"We got all the facts about our militancy, [and] therefore decided to leave the violent activities," he said. "We were not aware that those elements running BRA were using us for personal gain, which, later, was made clear to us."
"I have decided to become a peaceful citizen of Pakistan and will try my best to play a role in the development of my nation," Mohammad said. "I am sure those others still involved in terrorist activities will also consider reality and will abandon anti-peace activities."
'We were used for war crimes, terrorism'
Another senior former commander, Ali Gul, alias Faqeer, said he was ignorant of the motives of his leaders.
"I was associated with the banned BLA for the past seven years in Harnai District of Balochistan, and I was ... involved in the war with the state," he told Pakistan Forward.
"I decided to leave BLA due to its anti-peace and anti-Baloch agenda," he said, adding that BLA "is largely involved in the killings of Baloch people".
"In the past, due to our ignorance, we were used for war crimes," Gul said. "But now we have learned that we were used for terrorism."
"We achieved nothing during the armed struggle [other than] killing innocents and damaging our own infrastructure," Kohdar Baloch, a former BLF militant, told Pakistan Forward. "Therefore, now we are denouncing violence and now we will work for our country and oppressed nation."
"I am thankful to the authorities for giving us an opportunity to renounce violent activities," he said. "The separatist groups are killing their own people for the benefit of their masters."
A setback for militants
"The militants laid down their weapons under the Balochistan political reconciliation policy initiated by the provincial government," Maj. (ret.) Muhammad Omar, an Islamabad-based defence analyst, told Pakistan Forward. "I hope that it will attract other militants [who want to start] a peaceful life."
"The public is very concerned about its future in Balochistan as scores of families are suffering from this conflict," he said. "The ongoing large-scale surrender of militants is a big setback for those elements waging war in the name of 'liberation'."
"The state must revisit its policy of development in Balochistan by providing more opportunities [such as] jobs for youths and better civic services," he said.
"Anti-peace elements are misleading youths into armed struggle, and their agenda is for an oppressed and less developed Balochistan," he said "Therefore, the state must ensure practical steps for addressing the key concerns of the population in the province."