KABUL -- Many rank and file members of the Taliban and the "Islamic State of Iraq and Syria" (ISIS) believe their actions are just, but in reality they have been duped, observers say, as the violence they commit is un-Islamic and goes against the interests of Afghanistan.
"Terrorist groups, especially the Taliban who call themselves Afghans, do not work for the prosperity, security, peace or progress of Afghanistan," Farhad Majidi, a representative from Herat Province in parliament, told Salaam Times.
"On the contrary, they work for the purpose of destruction and backwardness of Afghanistan," he said. "If the opposite is true, they just need to present to the Afghan people one case of them doing a good deed for Afghanistan."
"The Taliban and ISIS claim to be an Islamic emirate and Islamic caliphate, but their actions are neither Islamic nor humane," Majidi said.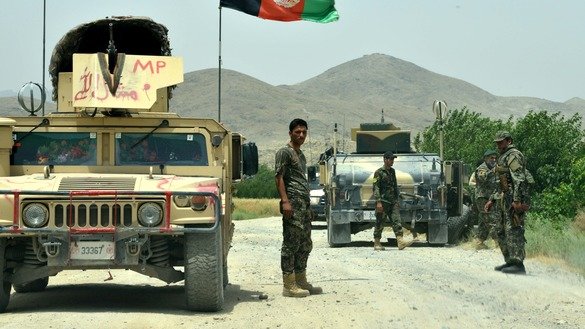 Attacks carried out by the Taliban and ISIS disproportionately affect innocent civilians.
Civilian casualties increased in the first six months of this year, during which period the Taliban and ISIS militants killed 1,141 civilians and wounded 2,348 others, according to a recent United Nations Assistance Mission in Afghanistan (UNAMA) report.
The report "clearly shows that more than 600 women were killed and/or injured in the first six months of this year," Fatima Nazari, who represents Kabul in parliament, told Salaam Times. "This shows an increase of 23% in women's casualties compared to the previous year."
The on-going violence "prove that terrorist groups have no plans other than killing Afghans and destroying Afghanistan," she said.
Terrorist attacks cripple Afghan economy
These groups' actions also have devastating consequences for the economy.
"The amount of annual damage that the Taliban and other terrorist groups cause to the Afghan government and people through the destruction of infrastructure, facilities and public projects is more than $200 million [13.7 billion AFN]," Ministry of Economy spokesman Suhrab Bahman told Salaam Times.
"The existence and increase of terrorist attacks by terrorist groups have raised the level of poverty in Afghanistan to over 39%," he said. "It has driven up unemployment, and consequently, thousands of young Afghans ... were forced to leave their homeland."
Violence and terrorism have badly damaged Afghanistan's legal economy, while "the illegal economy, such as income from drug [cultivation and trafficking], which is one of the main sources of income for terrorist groups, has grown," said Azarakhsh Hafizi, head of international relations at the Afghanistan Chamber of Commerce and Industries.
"Last year, when the city of Kunduz fell to the Taliban, the group burned down markets and shops," he told Salaam Times. "As a result, businessmen and companies either halted or restricted their business and investments in this province because of the fear and terror caused by the Taliban."
"At that time, the financial loss was estimated at tens of millions of dollars," Hafizi said.
"Agricultural activities in Kunduz, Baghlan, Helmand and a number of other provinces where the war continues have suffered the most," he said.
"These provinces used to be by far the largest food producers [in Afghanistan]. Terrorism and war, however, prevented the these provinces from producing as much food as before, reducing the GDP by tens of millions of dollars," he added.
Afghan forces inflict heavy price on militants
"Afghan National Defence and Security Forces (ANDSF) conduct 20 to 25 counter-terrorist operations per day, which kill and injure dozens of Taliban and other terrorists daily," Gen. Dawlat Waziri, a Ministry of Defence (MoD) spokesman, told Salaam Times.
Examples of recent successes against militants include on August 1, when Afghan forces killed 84 terrorists, including three Taliban commanders and ten members of the Haqqani Network, in Uruzgan, Faryab, Paktia and Kandahar provinces.
On July 30, ANDSF killed 103 terrorists in Ghor, Kapisa, Helmand and Badakhshan provinces.
"On July 26 a total of 149 terrorists were killed in various locations, while 116 others were wounded," he said.
The casualties include 45 Taliban members killed in Nuristan Province, 8 ISIS militants killed in Nangarhar Province and 3 al-Qaeda members killed in Paktika Province, according to Waziri.