LASHKARGAH -- Afghan National Defence and Security Forces (ANDSF) have killed at least 30 al-Qaeda members as part of a response to a surge in Taliban attacks on Lashkargah, capital of Helmand province, an Afghan National Army (ANA) commander said.
During the past three weeks, the Taliban have launched about 700 attacks on Lashkargah, mostly on police districts on the outskirts of the city, TOLOnews reported Monday (May 31).
The group was "helped by al-Qaeda fighters", said Maj. Gen. Sayed Sami Sadat, commander of the ANA's 215th Maiwand Corps.
"Al-Qaeda fighters have fought against our troops on the frontlines," he told TOLOnews. "At least 30 of them have been killed in the clashes in the last three weeks."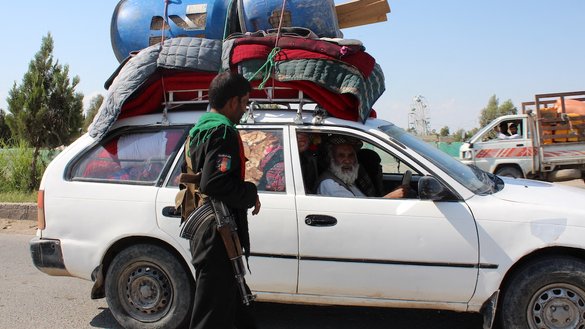 The ANDSF has gathered evidence on the al-Qaeda members' identities and other documents, he said.
"The battlefield in Helmand ... is pretty intense, and it got intense this year in May after the Taliban-US agreement came to an end and the Taliban started massive attacks on the city of Lashkargah, in Nawa and Nahr-e-Saraj districts," Sadat told freelance journalist Bilal Sarwary in audio posted on Twitter May 25.
"In the last seven days, the Taliban staged over 390 attacks, mostly concentrated on the city of Lashkargah, with around 3,000 fighting men collected all across Helmand and southwestern Afghanistan," he said.
"But they have not been successful [in] any of their objectives, and they also sustained a lot of casualties."
The Taliban wanted to take over Lashkargah, isolate the city from Kandahar and cut off access to several highways, Sadat said.
"In all three objectives they have failed miserably," he said.
Since May 1, the ANDSF killed 653 Taliban members and wounded more than 200, Sadat tweeted May 26.
"ANDSF not only finished off 14 of their so-called red units, 31 of their battle commanders including deputy shadow governor is dead," he wrote.
"Three take aways from battle of Lashkargah: 1) Taliban used the Doha talks to prepare for military offense & uses it as a tool for militancy 2) Afghan Forces will defeat Talibs 3) Local people hate Taliban," he also tweeted May 26.
The clashes have displaced at least 4,500 families in and around Lashkargah, some of whom have sought refuge in safer parts of the city.
Ahmad, a teenage resident of Lashkargah who stayed behind while his family fled their home, decried the violence.
"The problems cannot be solved this way," he told TOLOnews. "We pray to God to bring peace."
Ties with al-Qaeda
Taliban attacks in Helmand province increased after US and NATO forces started officially withdrawing from Afghanistan in May. The withdrawal is on track to be completed before September 11, officials say.
Meanwhile, peace talks between the Afghan government and the Taliban started last September in Doha, Qatar, but progress has stalled despite international efforts to jump-start the negotiations.
The Taliban have long used the excuse of foreign forces' presence in Afghanistan to wage their "jihad".
The group also pledged to cut ties with al-Qaeda and other terrorist groups as part of a peace agreement with Washington signed in February 2020.
But the increase in Taliban violence, the group's continued alliance with al-Qaeda and its tolerance of "Islamic State of Iraq and Syria" (ISIS) attacks on Afghan civilians highlight the Taliban's hypocrisy, observers say.
Afghan security forces and agencies, the United Nations and the United States all have confirmation that the Taliban have not cut their ties with al-Qaeda, Mohammad Asif Sediqi, a member of the Meshrano Jirga, said in late April.
Instead, the Taliban have maintained and further strengthened their strategic relationship with al-Qaeda, he said.
"The Taliban and al-Qaeda have common goals and interests ... and they use each other's technical, military, financial and intelligence capacities against their enemies," Sediqi said.
"It is crystal clear that the Taliban have not cut their ties with al-Qaeda either at the individual [commander level] or the local level," National Directorate of Security chief Ahmad Zia Saraj told reporters April 27, citing recent deaths of several senior al-Qaeda members in military operations.
"The Taliban have provided sanctuary to all terrorist groups in Afghanistan ... without the Taliban support, no terrorist group can operate," he said.